Best 8 pool brushes on Amazon 2023
Jul 14,2023 | AQUAFYSH
Maintaining a clean pool is crucial for both the aesthetics and health of the water. A pool brush plays a vital role in removing dirt, algae, and other debris from the pool's walls and floor.
A high-quality pool brush can save you time and money in the long run. By brushing your pool regularly, you reduce the need for excessive chemical treatments and minimize the risk of more serious problems, such as staining and damage to the pool surface. Investing in a reliable pool brush is a smart choice that will contribute to the longevity and beauty of your pool.
With various pool brushes available on Amazon, it's essential to find the one that meets your specific needs and delivers excellent performance. In this article, we have researched and compiled a list of the best 8 pool brushes available on Amazon in 2023 and a list of 8 new releases.
Let's talk about how to choose a suitable pool brush first.
Factors to Consider When Choosing a Pool Brush
When selecting a pool brush, there are a few factors to keep in mind:
1. Bristle Material and Strength:
The bristle material plays a vital role in determining the effectiveness of the pool brush. Nylon bristles are ideal for general cleaning purposes, while stainless steel wire bristles are more effective in tackling tough algae and stubborn stains.
2.Brush Shape and Size:
The shape and size of the brush head should match the dimensions of your pool. A larger brush head will cover more surface area, reducing the time and effort required to clean. Smaller brush heads are ideal for tight corners and smaller pool areas. The curved edge brush and the corner brush on the sides allow you to get tough corners without worrying about cutting your pool liner.
3. Durability and Longevity:
Look for a pool brush made of high-quality materials that can withstand regular use and exposure to pool chemicals. Durable brushes can ensure longevity and maintain the effectiveness of pool cleaning. Customer reviews and product warranties can provide insights into the durability of your brushes.
4. Compatibility with Pool Cleaning Equipment:
Consider whether the pool brush can be easily attached to your existing pool cleaning equipment, such as telescopic poles. Pool brushes come in a variety of handle types, including straight, curved and telescopic handles. Consider your comfort and convenience when choosing the type of handle that will allow you to reach all areas of the pool without much effort.
The Best 8 Pool Brushes on Amazon 2023
1. POOLAZA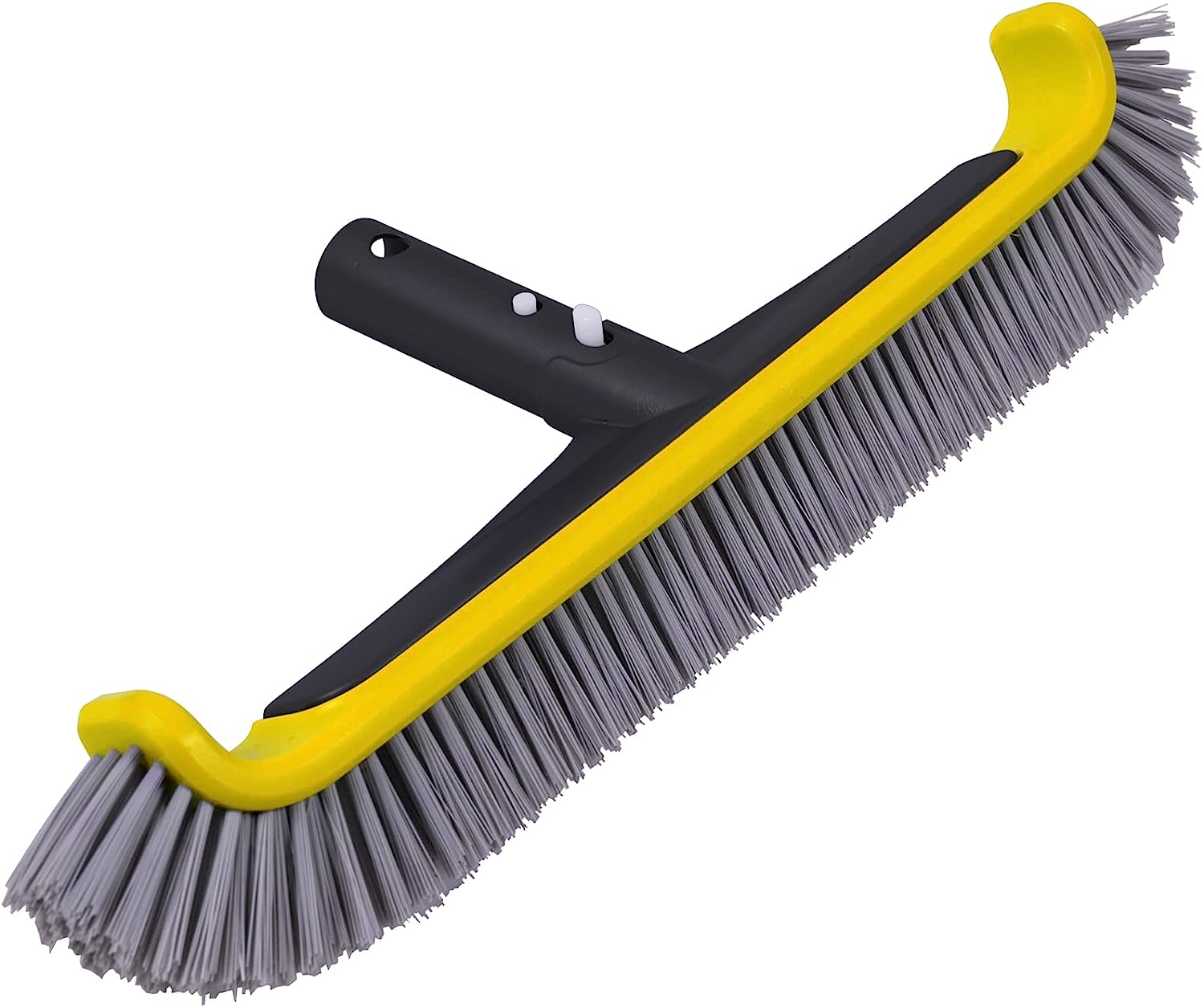 ID: B09NL34WKC
Rate: 4.6 / 5
Reviews: 935
Price: $18.98
Feature: Made of high-quality aluminum, ABS plastic and high-density nylon brush for maximum strength and durability. Curved design making it an excellent pool brush head for inground pools and specialized for cleaning stubborn stain at the corners.
Most recent reviews:
Steve: The curved brush is really nice to get the bottom pool edge.
This pool sweep is the best one I have purchased and seems to be holding up really well despite being in the hot Texas sun! It is excellent at getting the edges along the pool steps and corners.
—— ⭐⭐⭐⭐⭐
ioinva : Good quality bristles, perfect shape
Perfect for our vinyl framed pool. Bristles are soft enough to not scratch but there are enough of them to get a good grip on the surface. The gentle curved ends meet the edge of the pool perfectly. The end connects with the hose securely, without a wobble, making this chore effortless. —— ⭐⭐⭐⭐⭐
G. Parker
: A better brush
I've seen this style of brush recently and decided to purchase one. A typical pool brush misses the corners and crevices. Not this one. Now I'm able to get into spots that would have taken a round specialty brush to get to. Great find! —— ⭐⭐⭐⭐⭐
2.

Sepetrel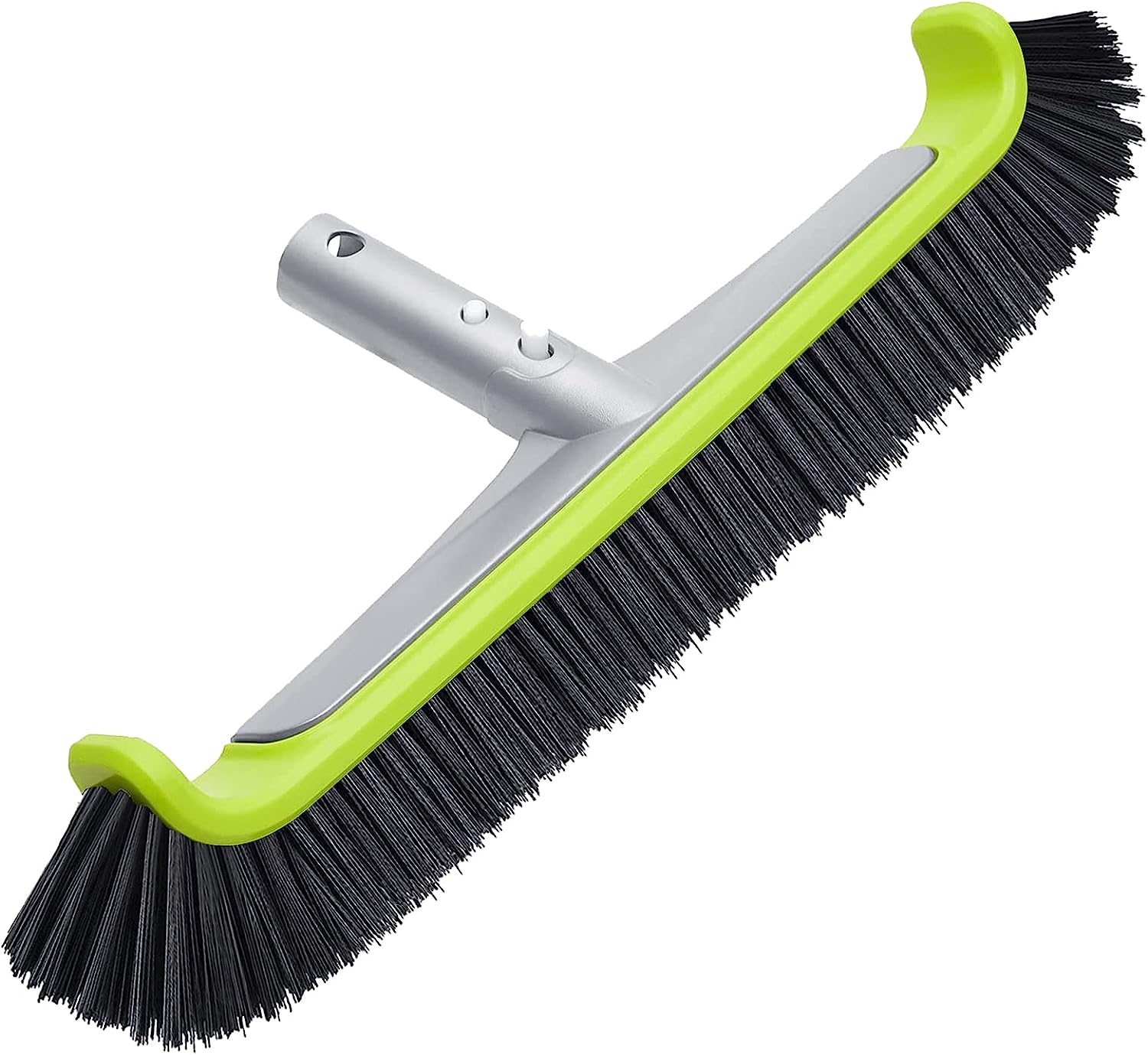 ID: B08QJNFVST
Rate: 4.6 / 5
Reviews: 2756
Price: $19.99
Feature: This pool brush has a curved edge design that allows for cleaning hard corners without damaging the vinyl liner. Its 17.5" extra wide brush head covers a larger area, saving time and effort.
Most recent reviews:
Jeff Lehn: Works as advertised
I have a variety of pool brushes for different tasks, but none of the ones I owned could really get into the corners where my robot cleaner couldn't reach. This definitely fit the bill, no pinching my fingers trying to shove it on the end of the pole, and it definitely gets down into the corners where scuzz tends to accumulate. The only annoying thing was after the first use, I had to skim out some bristles that had fallen off the brush. I've only used it a few times and it seems to be less of an issue than when it was new. Not a perfect product, but it does what it says it does. —— ⭐⭐⭐⭐
Mark A. Lumpkin
: Great brush for your pool!
After purchasing less expensive pool brush and puncturing the liner in my pool, my repair guy recommended this brush and said everyone needed one. Softer bristles, no sharp metal edges and good coverage. Already enjoying how great it brushes the pool. —— ⭐⭐⭐⭐⭐
Frank
:
Makes brushing your pool much easier
I love this brush. Seems I get dirt and occasionally algae in the cove and lower part of the wall of my liner, and this brush makes it a breeze to get to everything. This brush beats all my previous brushes (25 years with my pool) hands-down. ——
⭐⭐⭐⭐⭐
3.

POOLWHALE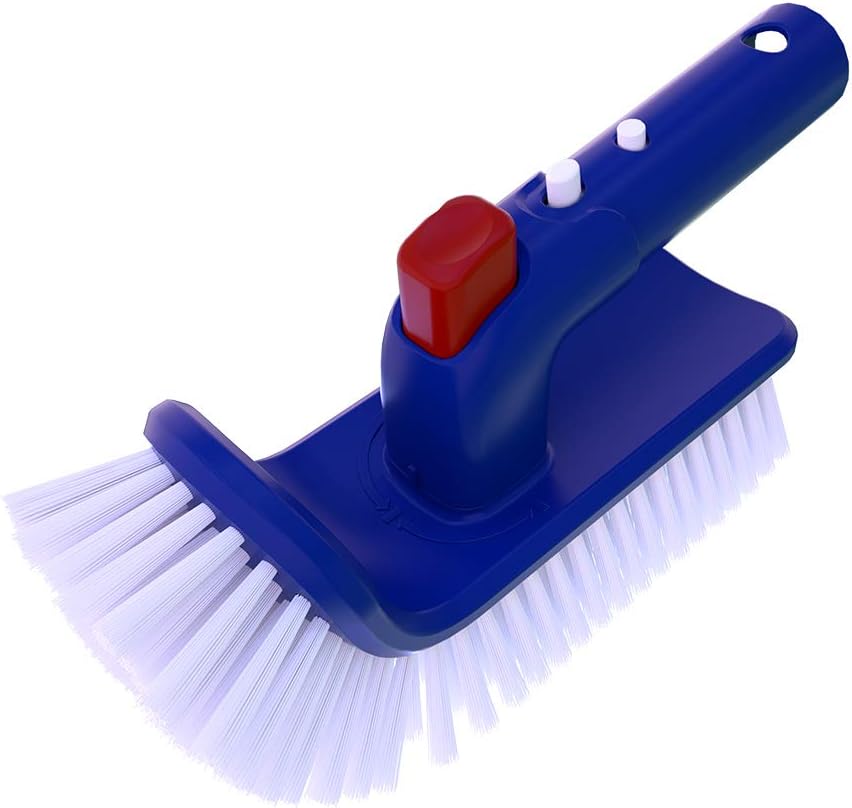 ID: B087R9FR28
Rate: 4.4 / 5
Reviews: 1192
Price: $14.99
Feature: This pool brush easily cleans above ground and inground pools, spas, and hot tubs, including hard-to-reach areas like corners, steps, ladders, and odd-shaped spots. The handle can be rotated 180 degrees with a red button for convenient use.
Most recent reviews:
Meem : Love this Brush
This brush makes cleaning a curved wall SO MUCH easier. I really like it. I was able to use it on a shortened handle in the hot tub as well. Someone mentioned the ability to change the angle of the brush as being a big deal. To me, it is a very big deal. —— ⭐⭐⭐⭐⭐
Corky Thompson : Great for cleaning
This brush works well in corners both using the telescoping pole or just in your hand. The pivoting handle let's you position it comfortably and in the best position for cleaning. Has held up well with weekly use for several months. Recommended. —— ⭐⭐⭐⭐⭐
m - cooker: wonderful - wish all pool pole accessories were this good
we have a fiberglass pool that has curves and steps and ledges that have to be brushed. I absolutely love the easy on/off buttons - wish all of my nets and brushes were this good. thanks ——
⭐⭐⭐⭐⭐
4.
Cheerclean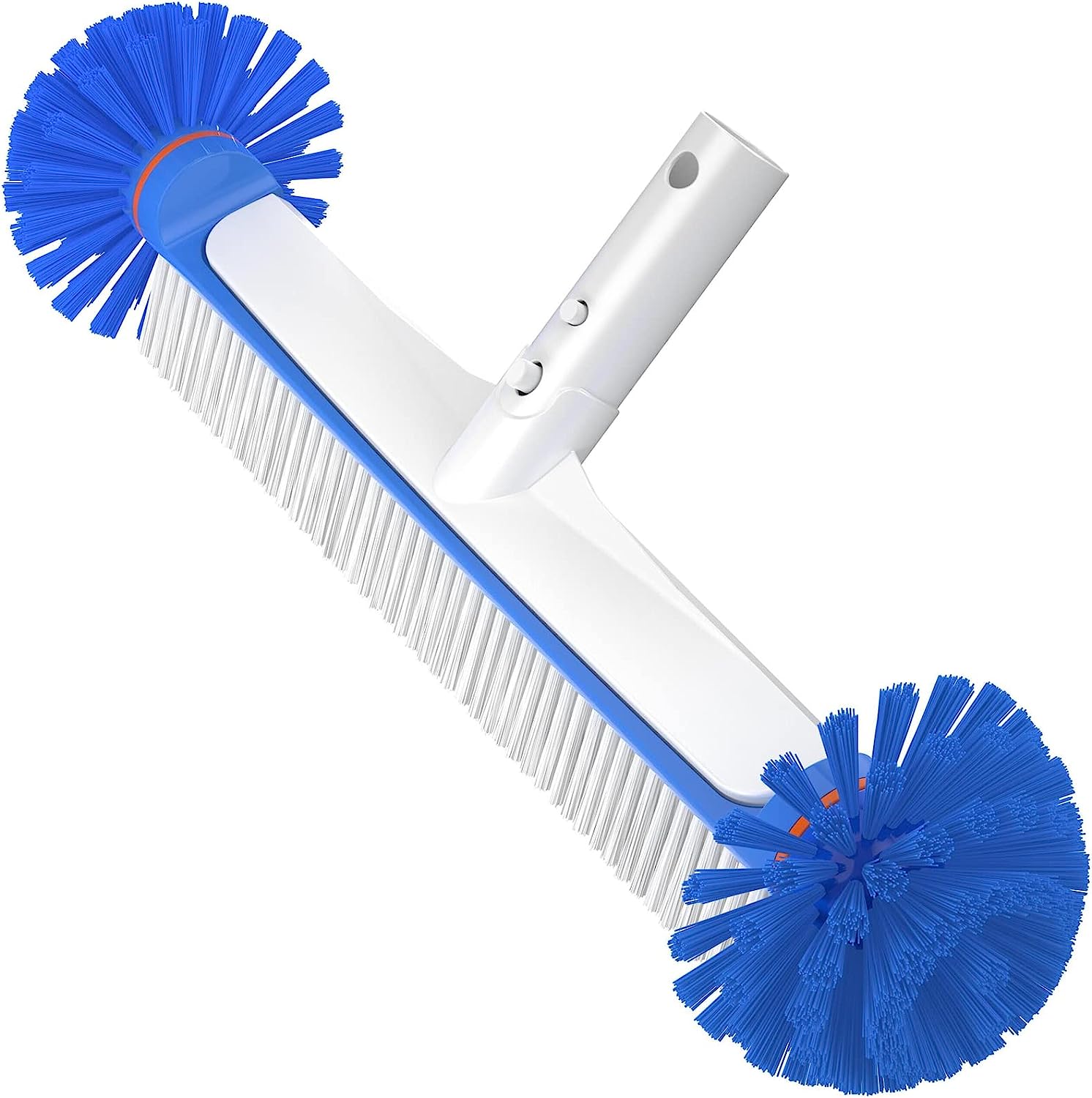 ID: B0969QHCM9
Rate: 4.6 / 5
Reviews:196
Price: $29.88
Feature: The upgraded pool brush features improved aluminum back and handle, increasing its resistance to oxidation and corrosion for a longer service life. The handle is designed with a user-friendly EZ-Clip button to prevent any finger clamping or jamming when connecting or removing the telescopic pole.
Most recent reviews:
c'est la vie🎉😘: Excellent 18" pool, bathroom cleaning brush
I bought this brush it's really good the head is thicker in the middle which i liked and it worked well in my shower, I didn't bought for cleaning a pool.

It's contoured on the end to sweep the corners better which i liked. This 18 inch broom brush covers alot of space, it cleans my shower without so much effort, I don't need to bend over to clean my shower floor.

It's also very well made of high quality plastic and aluminum material. With heavy-duty aluminum back and handle, multifunctional can be use to clean pools, ponds, bathrooms, outdoor tile, etc...it works great recommended. —— ⭐⭐⭐⭐⭐
Julie christian: Best pool brush
Love this pool brush especially for rounded corners and sloped edges. It has made it so much better to clean my pool and saved me a lot of time.

Will definitely buy again! —— ⭐⭐⭐⭐⭐
Fernando: Pretty heavy duty
Does a great job reaching areas around steps, good quality ——
⭐⭐⭐⭐⭐
5.
LALAPOOL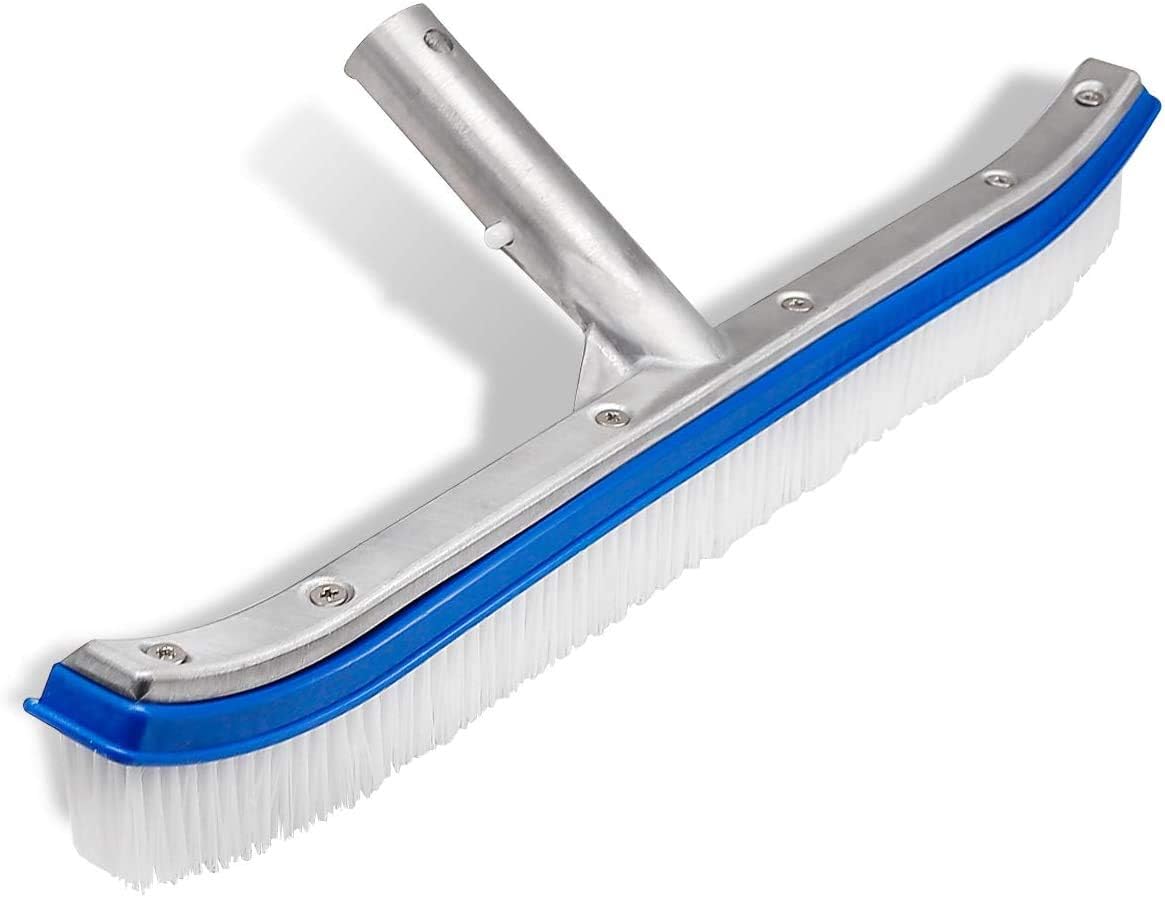 ID: B087R9FR28
Rate: 4.4 / 5
Reviews:10775
Price: $13.59
Feature: Made of aluminum and ABS plastic. Strong nylon bristles that won't damage the pool. The brush is flexible, with poly bristles to reach tough corners, and a metal backing for extra strength.
Most recent reviews:
Danny: Awesome pool brush
This brush is the best pool brush that I have owned. It is better than the straight ones. With the round brush's on the end it allows me to get the curved areas with ease. I would like the brush to be 24 inches to make brushing the pool bottom quicker. I highly recommend this product.
The brush met all of our needs and was priced less than it might have cost at other sources. —— ⭐⭐⭐⭐
Lori Hughes: Easy to change out with my skimmer pole. Great.
Not as good on my pools sharp corners, but still effective. ——

⭐⭐⭐⭐
6.
Pro Tuff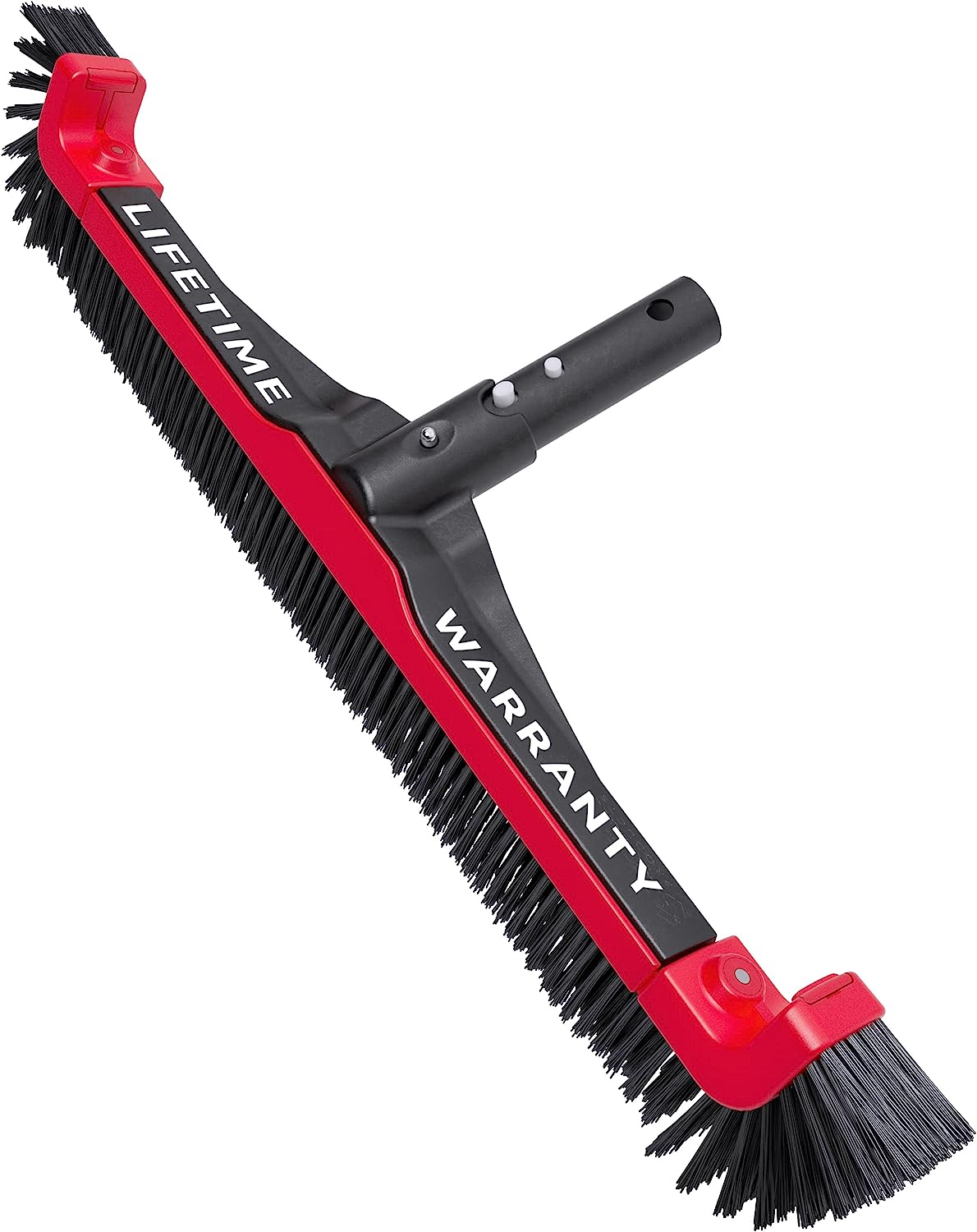 ID: B08WT88F69
Rate: 4.8 / 5
Reviews: 351
Price: $48.97
Feature: Straight algae brush with magnetic ring-lock design curved ends installed. With greater bristle density, just right bristle stiffness & removable curved wall brush ends it's a perfect swimming pool brush for above ground and inground pools.
Most recent reviews:
Karyn R: Great brush!
I've been using this brush for a week, and I didn't realize how much better having a flat brush does in saving time vs. most curved brushes. It does a great job and since all of the rain we've had, I've had a tough time keeping the water blue, but this bush makes the job faster due to it being flat.

The side bristles are great for corners and edges of stairs. Highly recommend the brush and the lifetime warranty was the clincher for me. —— ⭐⭐⭐⭐⭐
Eric H.: This brush is the real deal!
I clean pools full time so I need something that is quick and easy to use and holds up to daily abuse.
This brush appears to be it! I liked the quality as soon as I took it out of the box.
I was using another brush I bought off Amazon for the past 3 months. It was not near as impressive as it appeared online. You can see from the pic how it is actually concave which prevents you from getting the entire brush onto the surface.
This brush is impressive and I actually placed an order for two nets and the 16' pole. If they are as well built as this, I know I won't be disappointed. ——

⭐⭐⭐⭐⭐
Jessica: Stands behind their warranty
Great product, great company. I also have had the net for years and they stand behind their no questions asked replacement and it's quick and easy. They are just a Facebook message away. ——

⭐⭐⭐⭐⭐
7.
Blue Torrent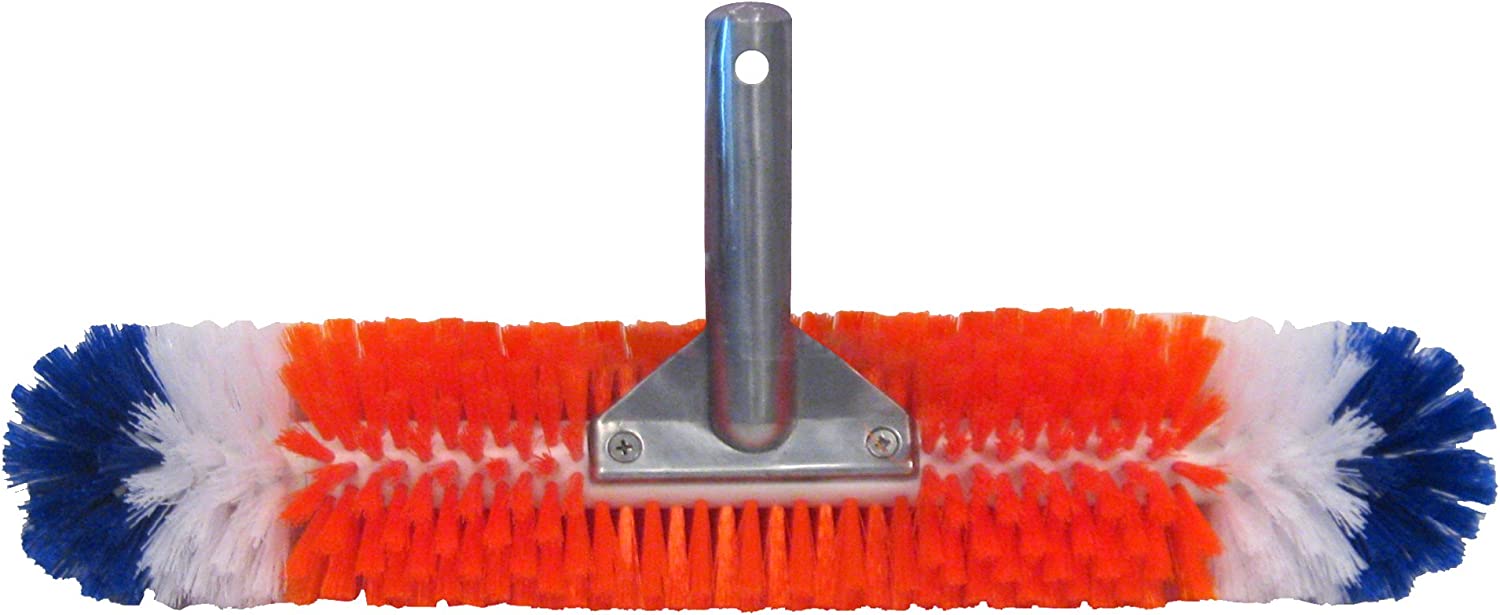 ID: B00B2CDS8G
Rate: 4.5 / 5
Reviews: 6055
Price: $18.09
Feature: Features a 360-degree design with long-lasting polypropylene cleaning bristles for an ultimate clean.
Most recent reviews:
Sailracer
: Does what my other brushes can't
I have one of the big, wide pool brushes for brushing the walls of the pool. It has angled ends that are supposed to help get into the corners of the stairs and such, but they barely work.

I bought this brush to handle all those corners and crevices where dirt and stuff tends to collect, and it works great for that. I have only used it half a season so far, but it does the job well and is easy to use. I like the smaller 12" size for weight and ease of maneuvering. The bristles easily get into the corners and clean all the gunk out.

The only bad thing I can say about this brush is that it was a bit expensive. If it lasts for a few seasons, however, it will definitely have been worth the investment. ——
⭐⭐⭐⭐⭐
marcelo rey: Clean better than the others but you got tired
If you are in shape or have enough stamina in your arms is the best tool. So, great for home but not for a professional that need to to 25 pools per day. Clean any place inside your pool...I don't have idea how long could be working fine....I have it for a few months... ——

⭐⭐⭐⭐
AJ2115: Returned first one
I had to return the first one because the white tabs that come out to connect to the pole would get stuck when compressed. The second one is better but still have to mess with it a little bit for them to come out and connect. Otherwise a good product.——
⭐⭐⭐⭐
8. The Wall Whale Classic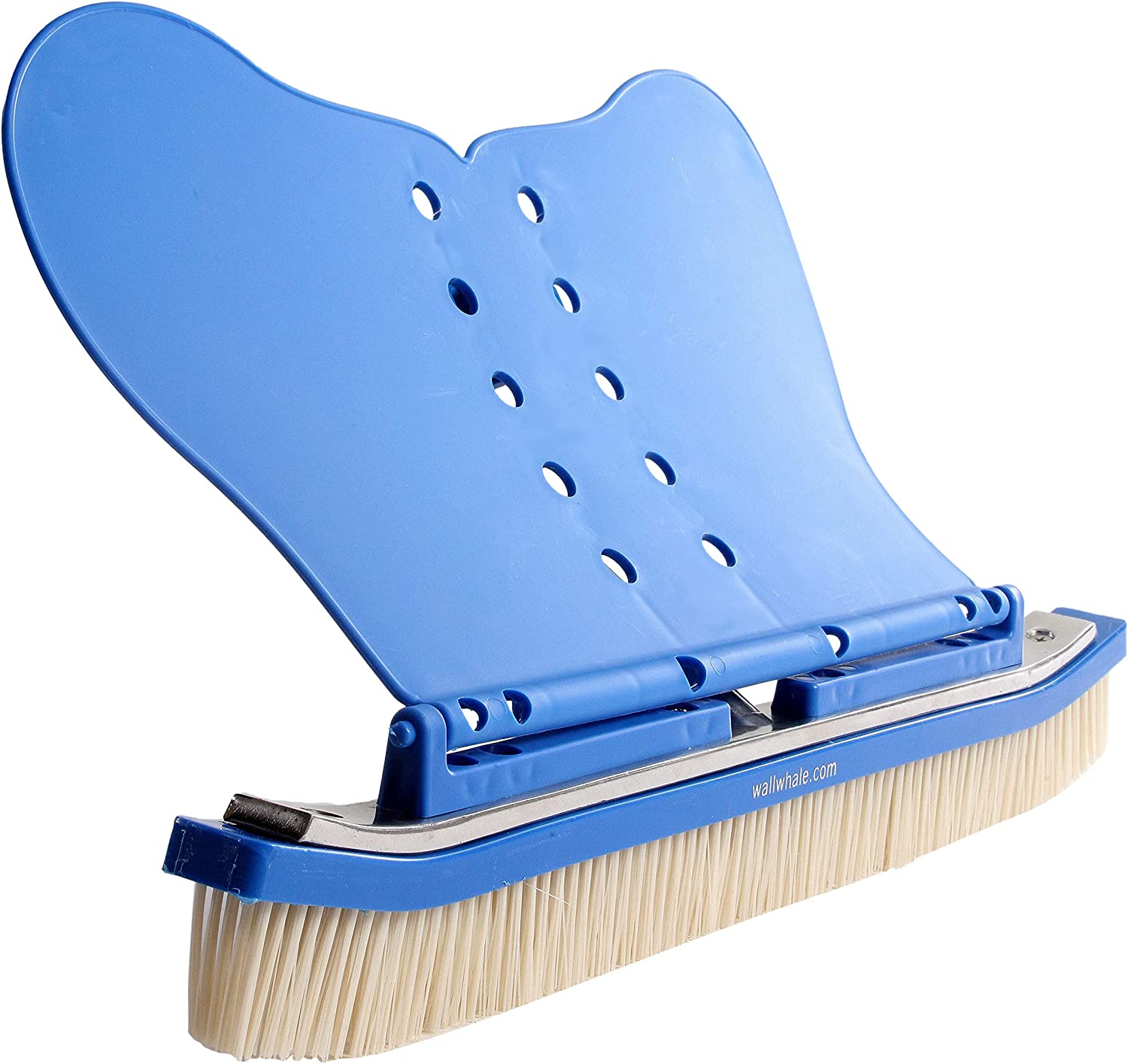 ID: B01DWH20QE
Rate: 4.5 / 5
Reviews:4508
Price: $28.09
Feature: Provides effortless and powerful brushing force. Just like the spoiler on a car helps it hug the road, the Wall Whale's Wall hugging action directs power to where it is needed, reducing the strain on the user and increasing cleaning effectiveness.
Most recent reviews:
Celt: Amazing wall brush!!!
I've had a 40X20 vinyl pool for many years. For some reason this year I've been getting a lot of algae build-up on my pool walls. I've been using a 36" brush to do the bottom and the walls. Frankly its been killing me to get those walls cleaned. I used this Wall Whale this morning on the walls and I am thrilled. It provides so much downforce that it gets ALL the algae in first sweep. Effortless compared to my regular brush twice as wide. Bottom line I got the job done in about the same time (10 minutes or so) with less than half the physical effort and not a speck of algae visible. Highly recommend. ——

⭐⭐⭐⭐⭐
Steven Webb: If you have resilient yellow algae on your walls, buy this product!
I wish I took photos but I could not sweep off the yellow algae no matter what i did including chemicals but with this whale sweeper, I got it all off and with not too much effort. I am very happy with this product! ——

⭐⭐⭐⭐⭐
Mynda: Not sure as great as they advertise
It does a good job of sweeping the walls but I still find myself having to use 2 hands. Definitely makes it easier but maybe not as easy as advertised. For the money, not sure it was worth the extra cost and hype. ——

⭐⭐⭐⭐
Let's discover the latest pool brushes on the Amazon. Manufacturers have introduced innovative options to keep pools pristine. With advanced materials, ergonomic designs, and specialized bristles, these brushes revolutionize maintenance. Dive into the world of new pool brushes and achieve effortless cleanliness.
New Releases List
1. SKIMLITE MANUFACTURING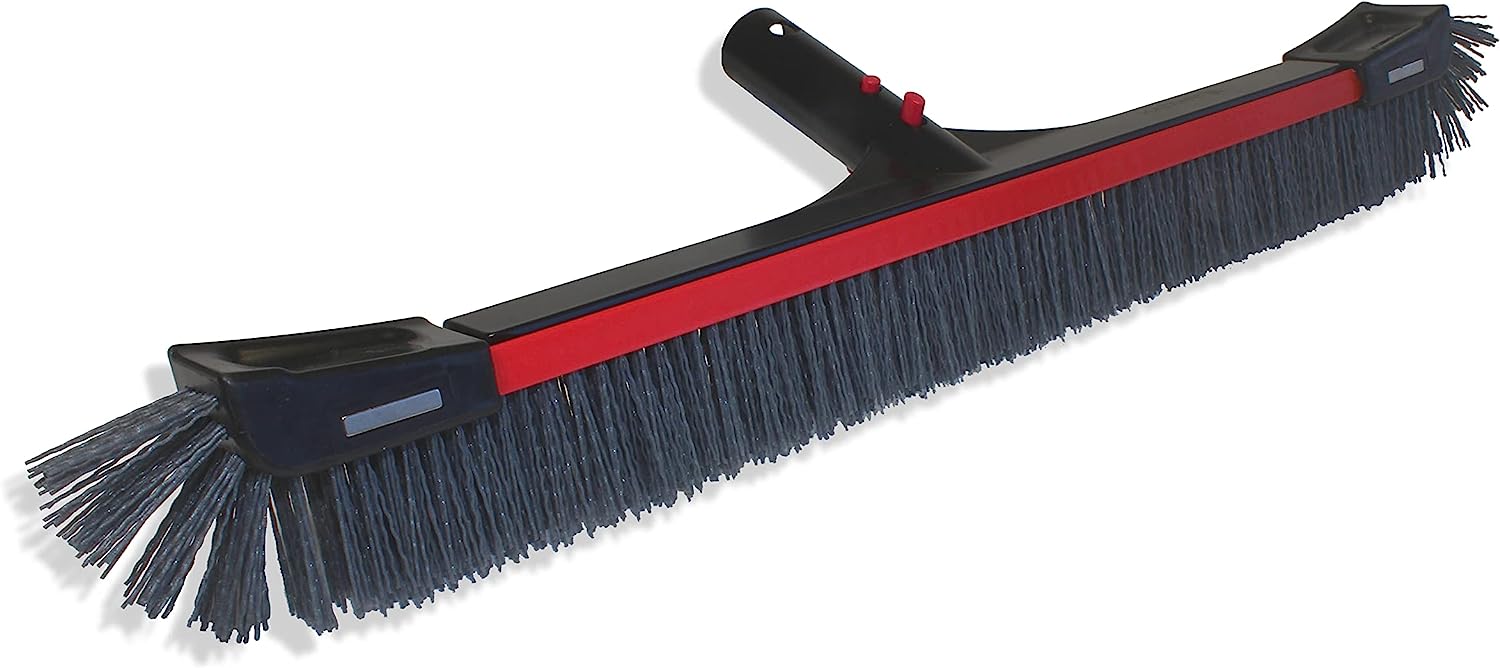 ID: B0C4R5NQRF
Rate: 4.5 / 5
Reviews: 2
Price: $49.99
Feature: Magnetic Round Endcaps – Patented magnetic end caps that add 4" of extra bristle length. Quickly picks up metal from the bottom of the pool with round edges for tough to reach corners.
2. Tidymister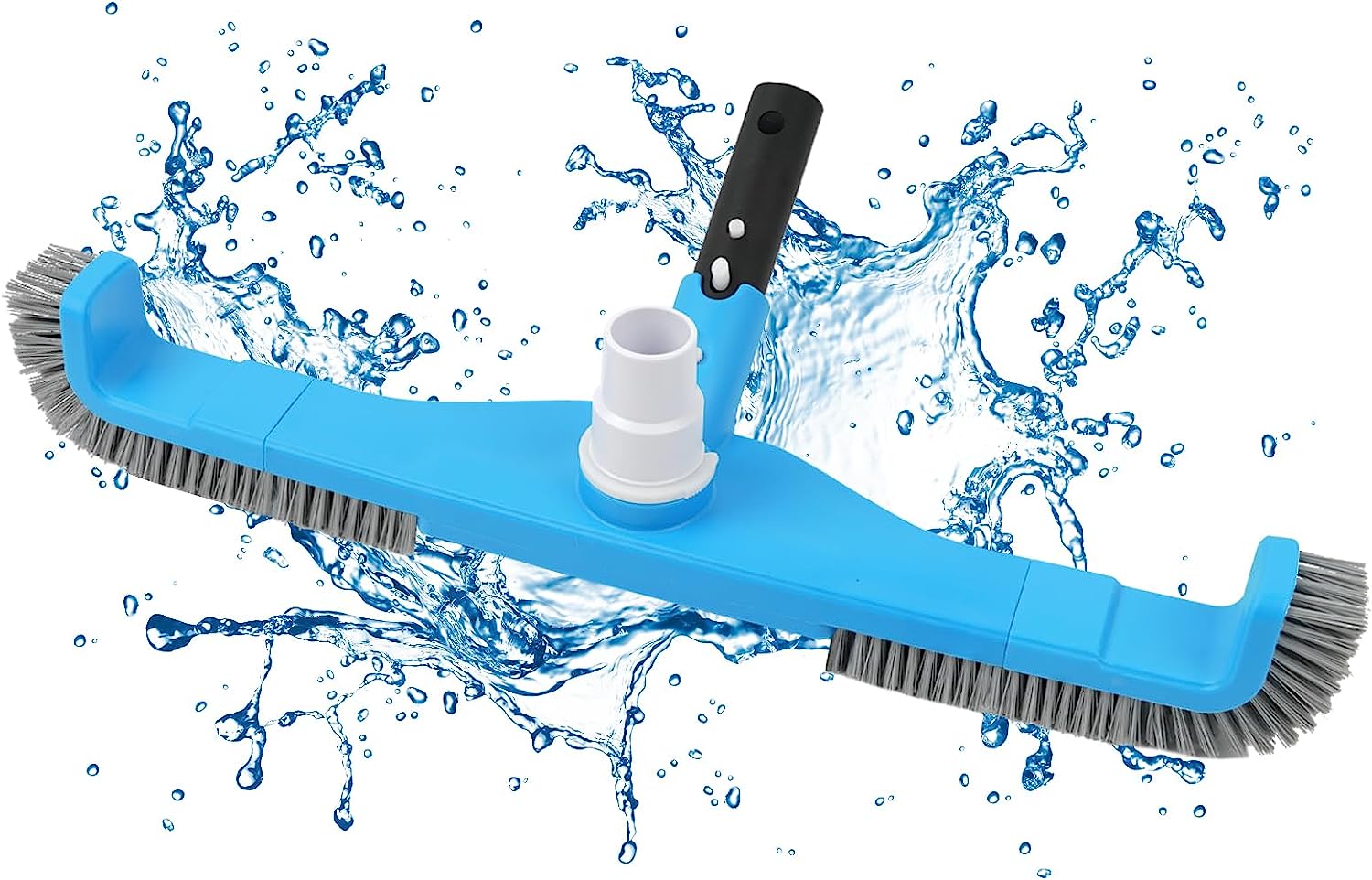 ID: B0C3CBJCJ6
Rate: /
Reviews: 0
Price: $24.49
Feature: Equipped with a convenient swivel hose connection, it can be used alone as a pool brush or linked to a hose for use as a vacuum.
3. Poolvio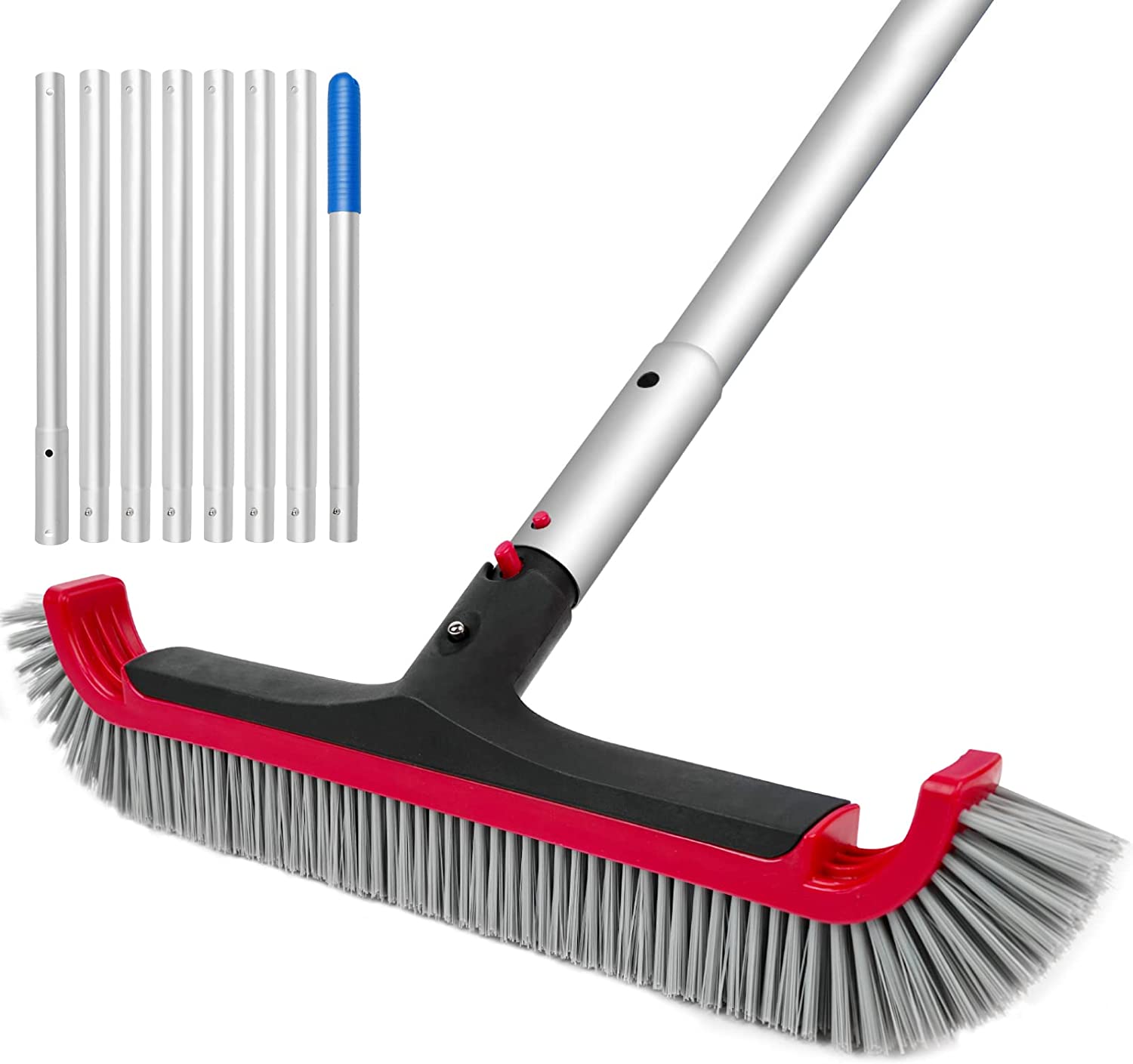 ID: B0BYDG1W97
Rate: 4.3 / 5
Reviews: 23
Price: $46.98
Feature: This pool brush and pole for swimming pool cleaning is made of high-quality 1mm thick aluminum, which is not easy to rust, corrosion-resistant.
How to Properly Use a Pool Brush
Start by attaching the pool brush to the telescoping pole, if it's not already integrated. Make sure the brush is held securely and attached tightly.
Vigorously removes dirt, debris and algae from pool surfaces. Use long sweeping motions for better coverage and results.
Pay extra attention to areas that are prone to dirt buildup or algae growth. Shades, corners and areas near water features are common problem areas. Spend extra time and attention on these areas to ensure a thorough clean.
Make pool brushing a regular part of your pool maintenance routine. Aim to brush your entire pool at least once a week to prevent dirt and algae buildup. Regular brushing also helps maintain water clarity and circulation.
After each use, rinse the pool brush with clean water to remove any remaining chemicals or debris. This helps extend the life of the pool brush and maintain its effectiveness.
How often should you brush a pool?
To maintain a clean and healthy pool, it is generally recommended to brush the pool at least once a week. Regular brushing helps to prevent the buildup of algae, bacteria, and other debris on the pool's surfaces. It is important to pay attention to specific areas prone to buildup, such as steps, corners, and waterline, and give them extra attention during brushing. By establishing a regular brushing routine, you can keep your pool looking its best and maintain optimal water quality.
Conclusion
A clean and well-maintained pool can enhance the enjoyment of your swimming experience. With the right pool brush, you can effortlessly keep your pool free of dirt, debris and algae. The top seven pool brushes on Amazon for 2023 all offer excellent cleaning performance and durability.
Comment