10 Best Swimming Pool Skimmer Net Sold on Amazon in 2023
Jun 13,2023 | AQUAFYSH
Swimming pools are a great source of relaxation and fun, especially during the summer months. However, maintaining a clean and debris-free pool can be a challenging task. This is where a swimming pool skimmer net comes in handy.
A skimmer net plays a crucial role in maintaining the cleanliness and overall condition of a swimming pool. It is an essential tool used to remove debris, such as leaves, insects, twigs, and other unwanted materials that may accumulate on the water's surface.
In this article, we will explore the best swimming pool skimmer nets available in the market and provide you with all the information you need to make a wisest decision.


Types of Swimming Pool Skimmer Nets
When it comes to swimming pool skimmer nets, there are various types available in the market. Each type is designed to serve a specific purpose and cater to different pool maintenance needs. Understanding the different types of skimmer nets can help you make an informed decision when choosing the right one for your pool. Let's take a closer look at some of the most common types:
Flat skimmer net:
These skimmer nets feature a flat, shallow net attached to a long handle. They are the most basic and widely used type of skimmer nets. Flat skimmer nets are ideal for removing leaves, bugs, and other surface debris from the pool. They are easy to maneuver and highly effective in keeping the pool's surface clean.
Deep skimmer net:
Deep skimmer net has a net with a deeper and larger bag, allowing them to capture larger debris such as twigs, branches, and even small toys. These skimmer nets are particularly useful if your pool is located in an area with heavy foliage or surrounded by trees. The deep net design helps prevent clogging and ensures efficient debris removal.
Fine mesh skimmer net:
Fine mesh skimmer nets are designed with a fine, tightly mesh. This type of skimmer net is highly effective in capturing even the smallest debris, such as pollen, tiny insects, and dirt particles. They are ideal for pool owners who desire a crystal-clear swimming pool. They prevent debris from reentering the pool during the skimming process, resulting in a pristine swimming experience.
Leaf rake skimmers net:
Leaf rake skimmers, also known as leaf net, are specialized skimmer nets designed explicitly for tackling leaves and larger debris. These skimmer nets have a wide-mouthed net with a flat surface that allows for easy collection and removal of leaves from the pool. Leaf rake skimmers are especially useful during the fall season cause leaves tend to accumulate in outdoor pools.
How to choose a swimming pool skimmer net?
When selecting a swimming pool skimmer net, there are several factors to consider to ensure you choose the right one for your needs:
The size of the skimmer net should be suitable for your pool's sizes. A larger skimmer net will allow you to cover a larger surface area, making cleaning more efficient.
Look for skimmer nets made of durable and weather-resistant materials such as nylon or polyester. These materials ensure longevity and withstand regular use.
Pool skimmer nets are typically made of mesh materials that are durable, lightweight, and water-resistant. The most commonly used materials for pool skimmer nets include:
Nylon:
Nylon is a popular choice for pool skimmer nets due to its strength and resistance to wear and tear. It is lightweight, fast drying, low moisture absorbency, and can effectively capture debris without tearing easily.
Polyester:
Polyester mesh is also used in some pool skimmer nets. It is strong, resistant to stretching, and can effectively trap debris while allowing water to flow through.
These materials are chosen for their ability to withstand the outdoor elements, exposure to chemicals, and constant contact with water. They are designed to be strong enough to handle regular use and cleaning, ensuring that the skimmer net can effectively remove debris from the pool while lasting for an extended period of time.
Consider the length of the skimmer net handle. It should be long enough to reach all areas of your pool comfortably. After all, pools are also available in different sizes.
Choose a skimmer net that is easy to handle and light weight. This will make your pool cleaning tasks less tiring and more enjoyable.
Top 10 swimming pool skimmer nets sold on Amazon
Now that we have explored the different types and factors to consider, let's dive into the top 10 swimming pool skimmer nets available in the amazon:
1. U.S. pool supply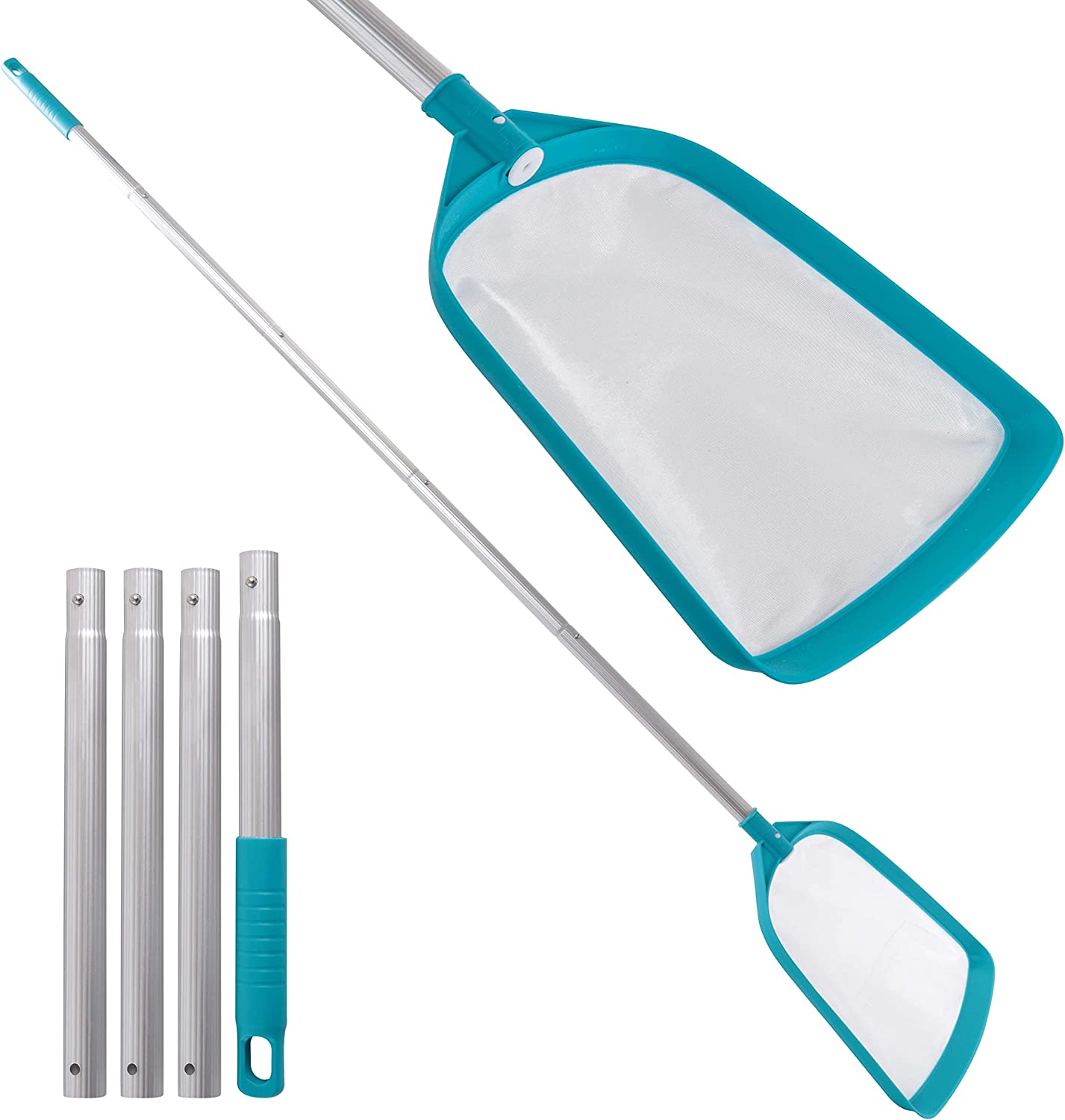 ID: B0BSXT5VLF
Rate: 4.6 / 5
Reviews: 7002
Price: $15.99
Feature: 2" deep ultra-fine mesh netting helps you to clean leaves and fine debris from pools, spas, ponds, and kids' pools. The large volume allows this skimmer to collect more debris at a time.
Good to get stuff off top and in the water.
—— ⭐⭐⭐⭐⭐
Devera Bo:
Not a Match! Very Nice Fine Net Mess but the pole with threads didnt connect to Net w holes
Items came sealed and New.
If the Pole could attach to the Net i would give it 3 to 4 Stars, if the Pole went together with threads or buttons I would give it 5 Stars. But our pole pieces are just a compression fit to each other while I've seen others that are together with a button that you use to pop in and out. Our Net Peace attaches by buttonholes and there is no deeper thread inside but our pole ends with blue plastic threads so not a match to connect the Pole and the Net together. Maybe just a one-off mistake in packaging two different items being sold.
—— ⭐⭐
rankenory
:
flat net doesn't pick up much, not good for a pond
Advertised for use in pools and ponds, but this does not work well scooping up the larger debris in a pond since the net is flat so you can't scoop much with it. ——
⭐⭐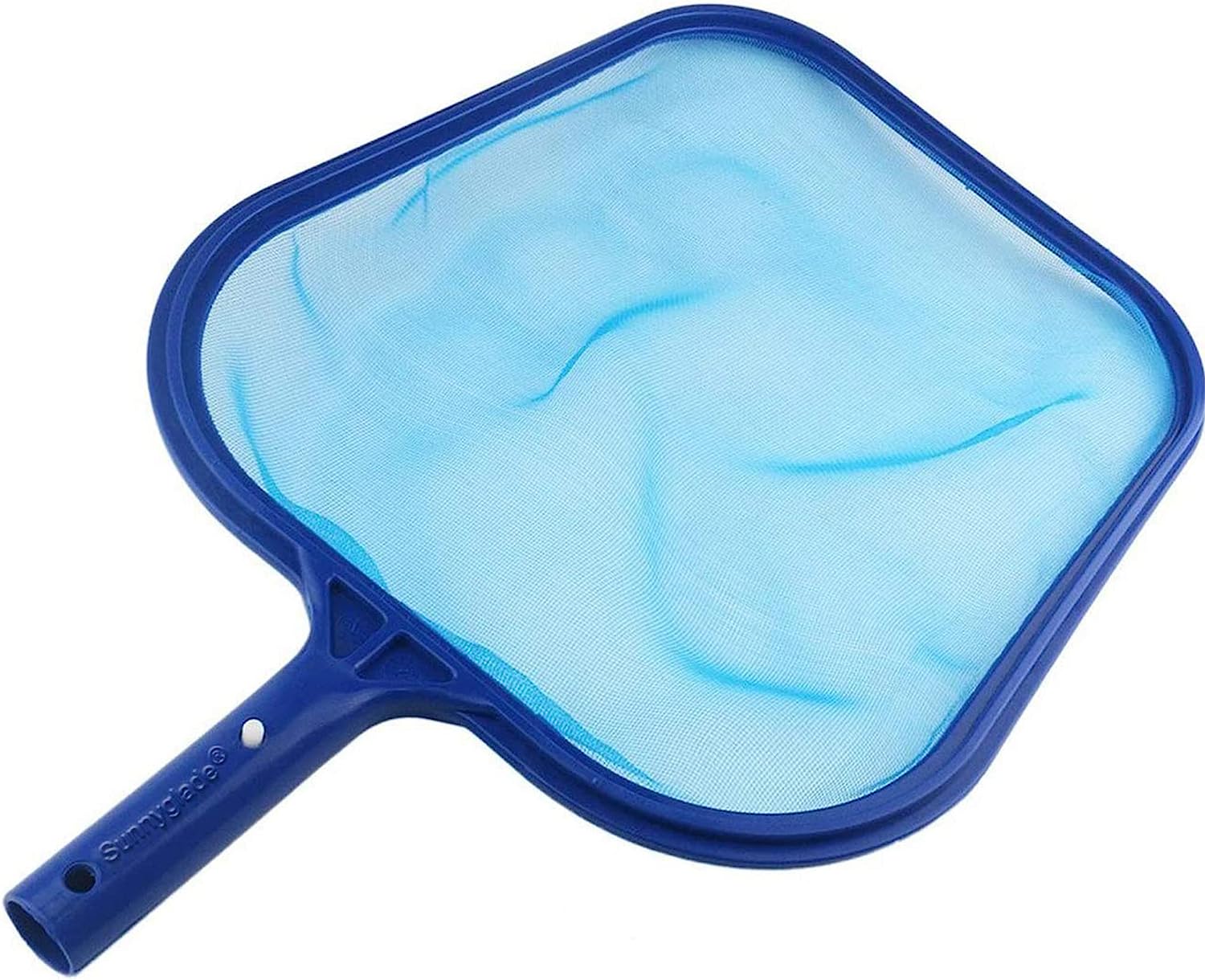 ID: B07D8JJ5ZT
Rate: 4.2 / 5
Reviews: 27725
Price: $10.99
Feature: High quality thick plastic frame and netting designed to easily maneuver through water. The heavy-duty but lightweight ABS plastic and mesh pool skimmer is made to perform season after season.
We bought this to get a bunch of leaves removed from our pool. It literally bent from the weight. ——
⭐⭐
⭐
Luis
:
Great tool for the pool
Does exactly what I need for it to do. Quality of material is top notch, and the price was great ——
⭐⭐
⭐
⭐⭐
Jeffrey Gorey:
Very small, good for a little kids pool
How doers this have so many good reviews? It's cheap flimsy plastic, and very small. May be fine for a tiny kids pool but not a real pool. ——
⭐
⭐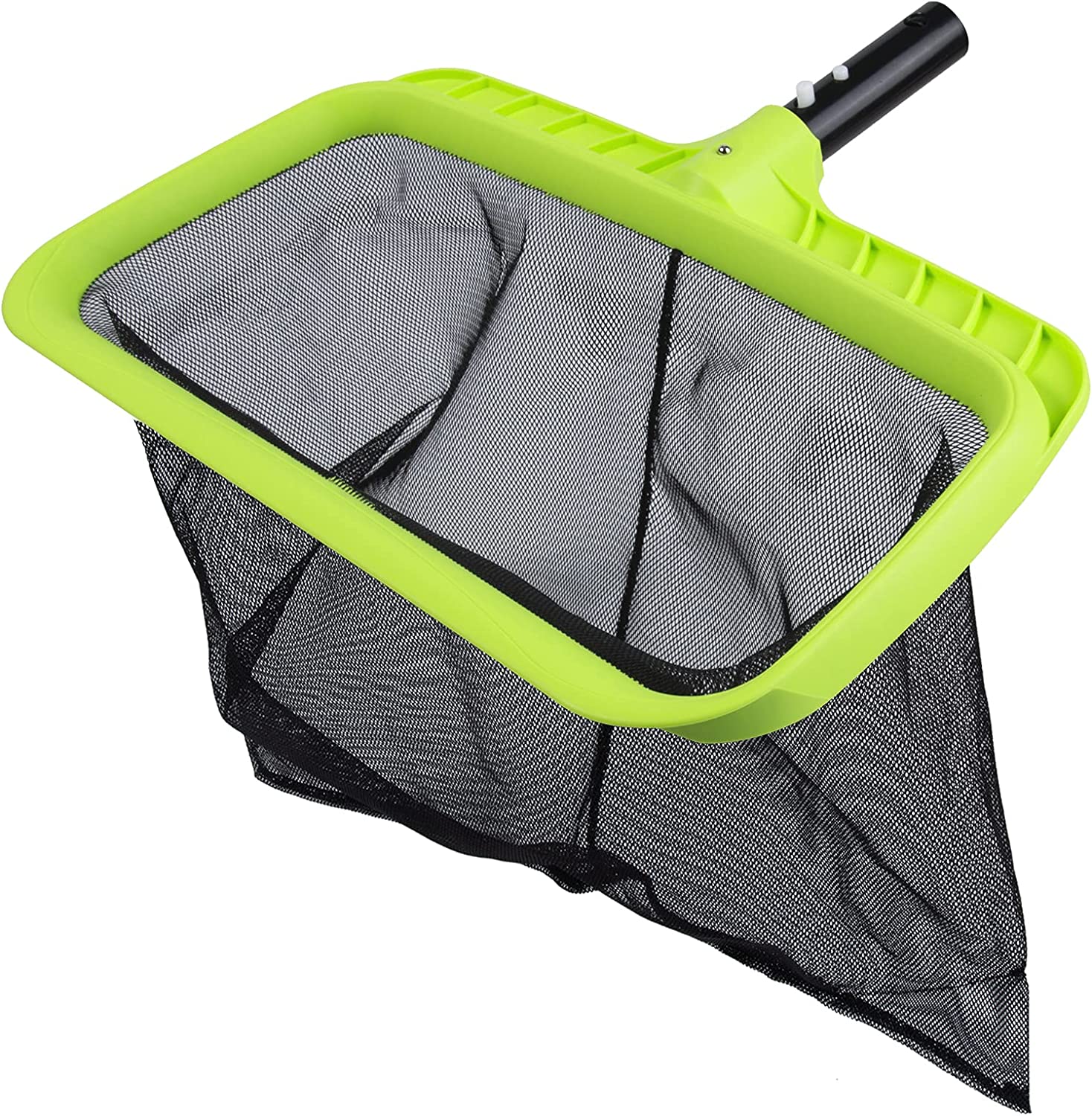 Feature:
Wide and inclined front lip for scooping out debris from the bottom of the pool easily and assuring no damage to pool liners. Double-layer nylon mesh with special anti-oxidation treatment for long-lasting durability. Thickened aluminum bar frame can handle a variety of pool cleaning tasks and can be used for multiple seasons.
97tries :Does the job


Got this to clean out the yard debris in my pond. Works great and does what I need it to do. ——

⭐⭐

⭐

⭐⭐
YM :
Works Fine Doesn't last
Maybe for a vinyl pool it would last, but it's only lasted a few months for us. Our old one, which came from the pool store, and was probably more expensive lasted for over five years. This one, nope. ——
⭐⭐
Robert Hower :
almost 5 stars
This is a really nice skimmer. Works great at getting stuff off the bottom of my pool Only 4 stars because the netting is black and sometimes it's hard to see if the thing I'm scooping got in the net. Otherwise really nice! ——

⭐

⭐

⭐⭐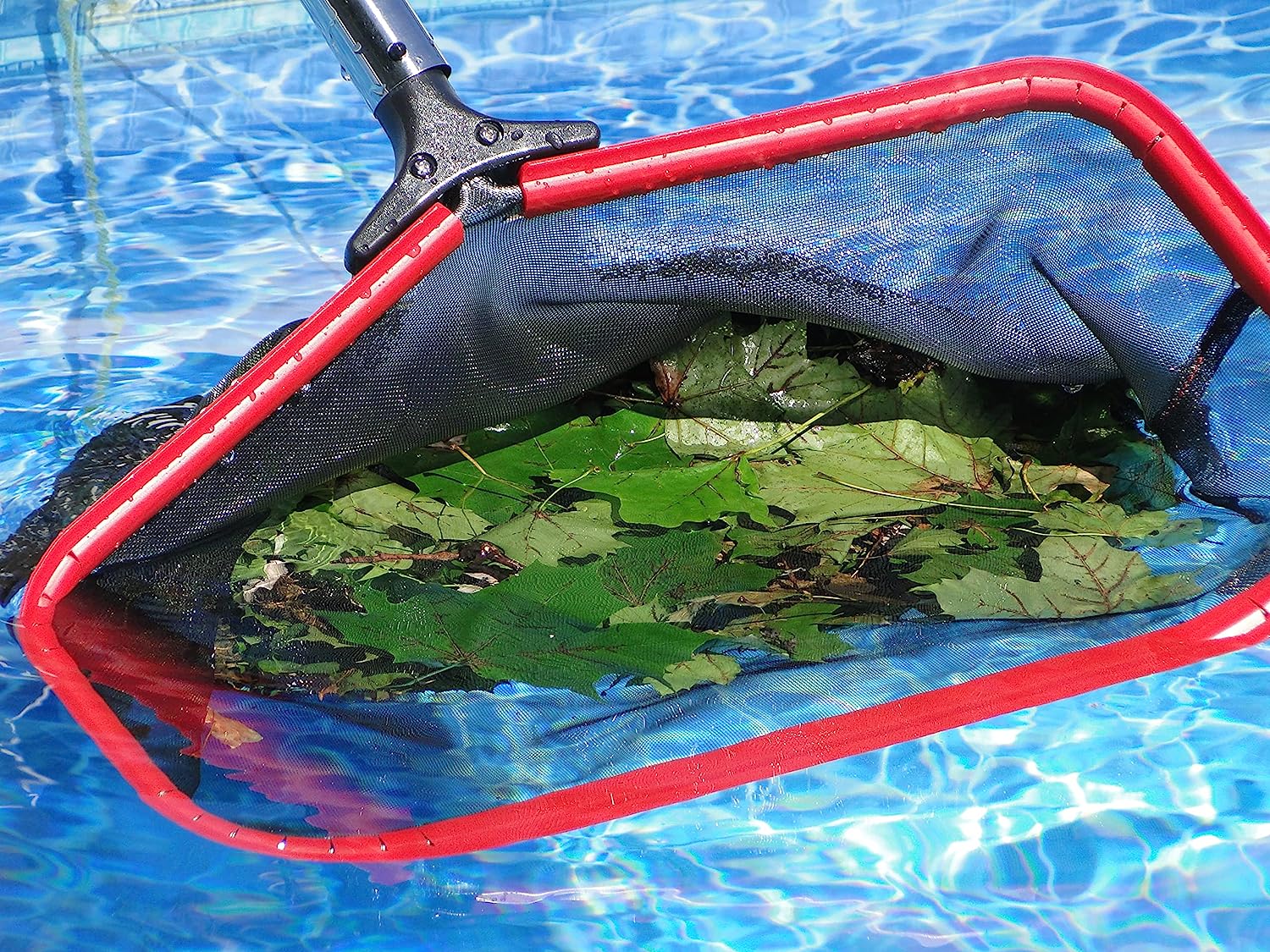 Feature:
Made of heavy-duty, rugged materials, this skimmer net can handle heavy debris and is built to last. It comes with a lifetime guarantee.
I'm thoroughly impressed by the efficiency and professionalism of their warranty service. It's evident that Pro Tuff stands behind their product and prioritizes customer satisfaction.

This skimmer is worth every penny. It is durable, efficient, and now, with the added confidence of outstanding warranty support, I can confidently recommend the Pro Tuff Skimmer to anyone in need of a reliable pool maintenance solution.

Thank you, Pro Tuff, for not only delivering an excellent product but also for your exceptional customer service! ——

⭐⭐⭐⭐⭐
Kip W:
Sturdy, received quickly and great warrenty
The rim of this skimmer is very sturdy and will not break under heavy loads. I use it for cleaning off my winter solid cover throughout the closed season an put a lot of pressure on it with scooping leaves. The rim also has a nice scoop which helps to get difficult to scoop toys and rocks.

I've had the skimmer for a year now and this spring it developed a hole in the net. I was able to test out the lifetime warranty. With the exception of a hiccup in my account not being transferred to their new system, once fixed the warranty process was a matter of clicks; super simple and arrived in a few days. ——

⭐⭐⭐⭐⭐
Troy L :
Net does not last
After two years the net now has two holes big enough to poke fingers through. BTW, the skimmer net has always been stored in a shed where it is not exposed to the sun. ——

⭐⭐⭐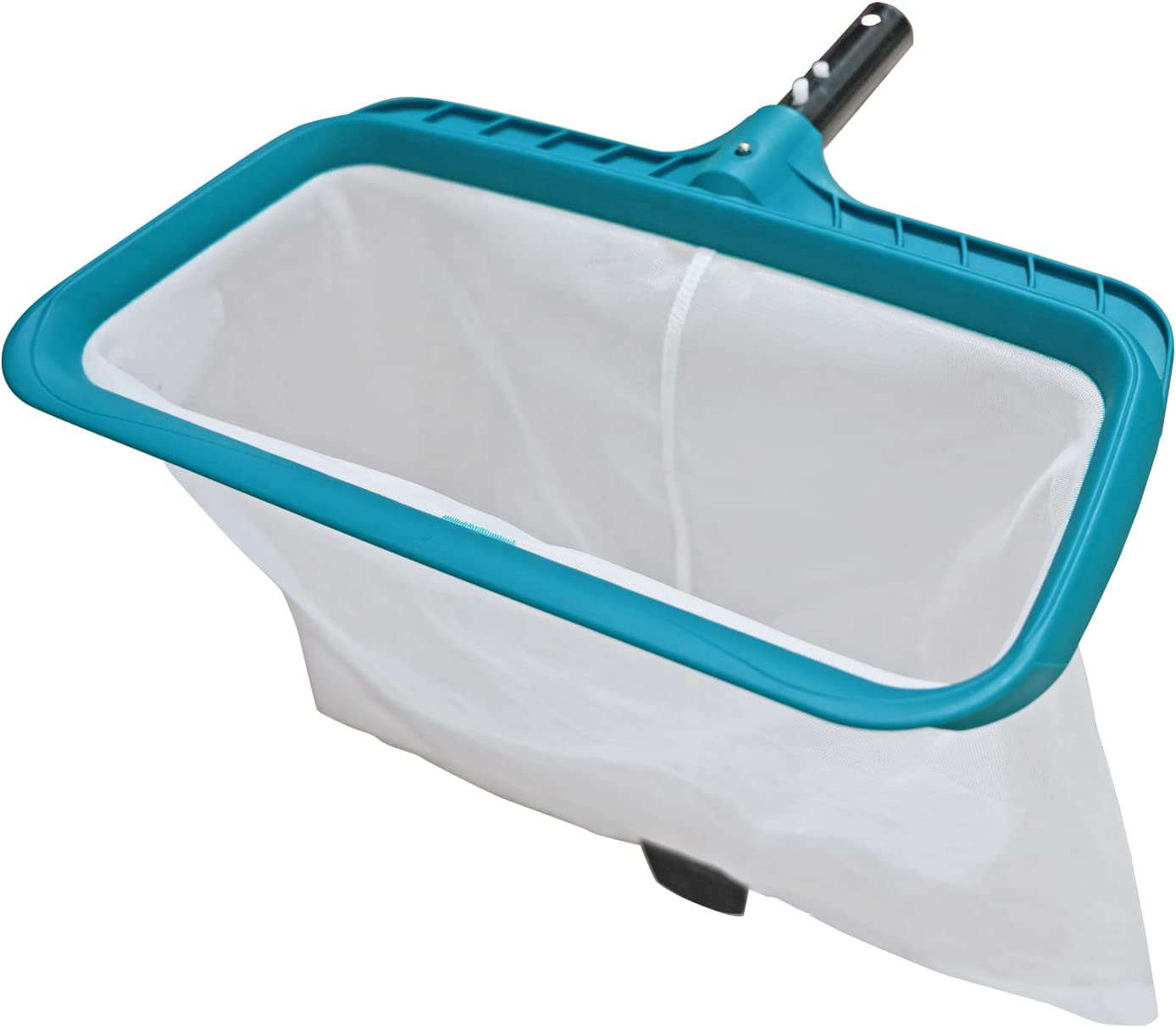 Feature:
Large capacity allows you pick up more debris. Weighted tab makes the rake easy to turn upside down in use. It comes with a 30-days money back guarantee.
Kevin J. Veltman
:
Poor quality
Plastic frame cracked within 6 months of use; edge does not scoop debris at bottom of pool well ——

⭐
This was shipped without any box, so basically came in a transparent nylon, which is weird. The product seems to be flimsy. I have used it two times. The first first time the connecting piece to the pole fell apart. I reattached it and the second time i used it worked fine, we'll see how long it lasts. It doesn't look like it will last that much. ——

⭐⭐
CoffeeKnitRead:
What we needed
We have several trees around our pool. The pool service people hate them, because they drop leaves into the water. But we love them because they give more and better shade than any umbrella, and they also have birds nesting in them which we get to watch while in the pool. The leaves are small and float on the surface, so we just skim them off while in the pool.
I like that this net and pole are lightweight, so easy to use. We only used 2 sections of the pole so it is easy to handle but still long enough to reach the bottom for any debris that drops down. If we need the other sections, they are easy to add on. I don't expect it to last a lifetime, but feel sure it will last a couple seasons, so worth the price. ——
⭐⭐
⭐⭐
6. JED Pool Tools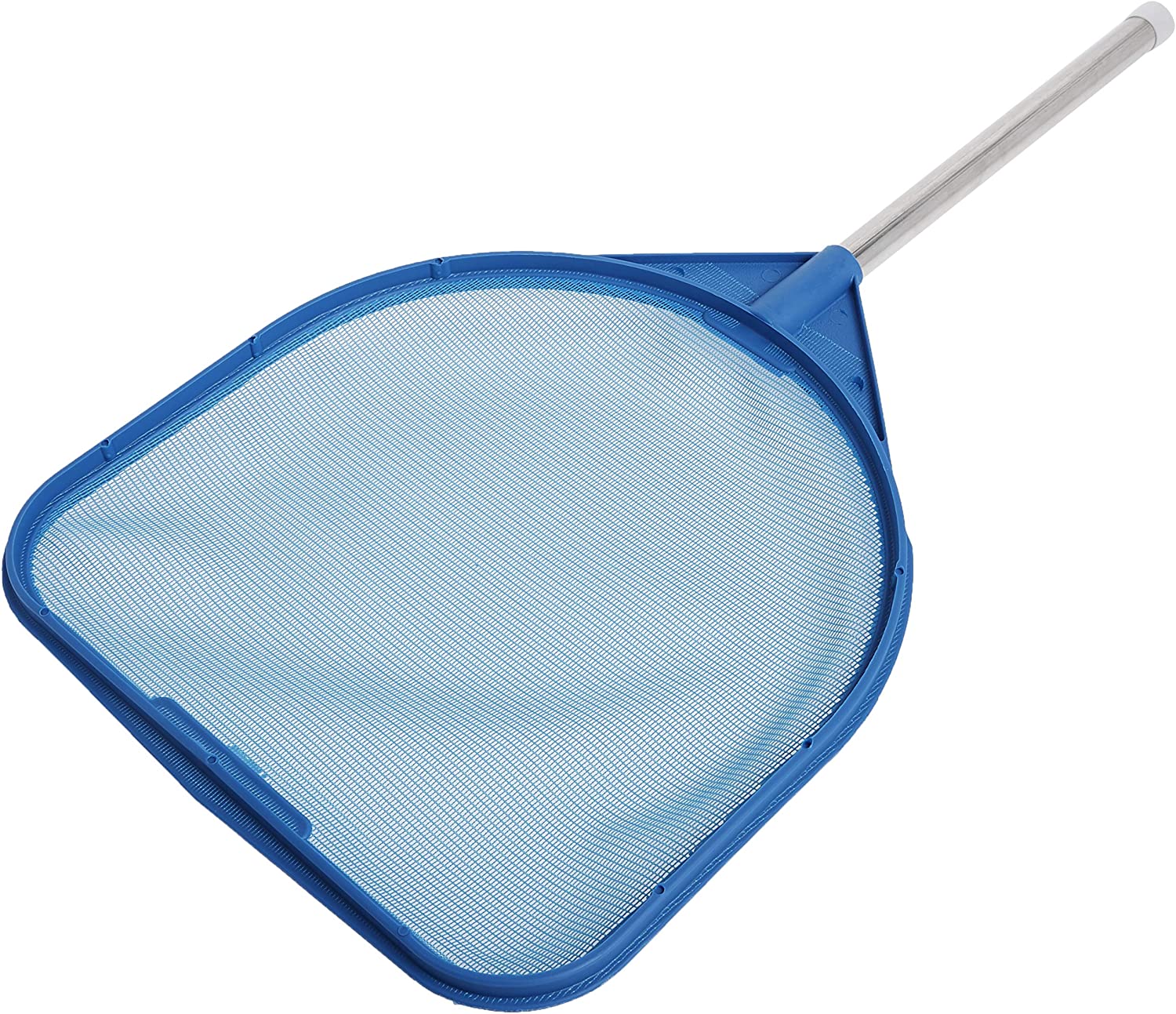 Feature:
Ultra-light weight is effortless to use. 2 feet long pole is easily to retrieve leaves and other debris
Momo:
Not fine mesh; small debris passed through
I picked this quickly to skim my large kiddie pool because of same-day delivery and reasonable price. For one, the quality seems cheap but acceptable for what I needed it for. I had some issues assembling (had to have my husband push that pin in that connects the skimmer to the pole because I struggled with it due to the plastic not being cut very well). I didn't look very closely but also in retrospect, the listing doesn't really include any details that would have let me know the net is also made of a plastic material that reminds me of a tennis racket. The skimmer did a basic job getting leaves and hair out of the pool, but the net was not fine enough to get the smallest debris. There were still little specks floating in the pool that would just pass through the skimmer no matter how many times I went through it. You can see this if you zoom closely on the product images. I play with my baby in that pool, so I'm trying to get it as clean as possible while being able to change the water maybe only every other day. I'm going to look for a fine net skimmer more like the kind you use in a fish tank. ——

⭐

⭐⭐
Andrea Brooks:
This is for the bigger pieces of debris, not for the ultra fine particles
It was ok for the money. It does work well for the larger particles for it does not pick up the finer items. ——

⭐⭐

⭐⭐
I don't normally give feedback but this thing is pitiful. It was pulled away from the edge at least an inch when I got it. It seems to be good quality till you get to the netting. This is the second time I got one of these that wasn't put in a box and both times it was broken on arrival. ——

⭐⭐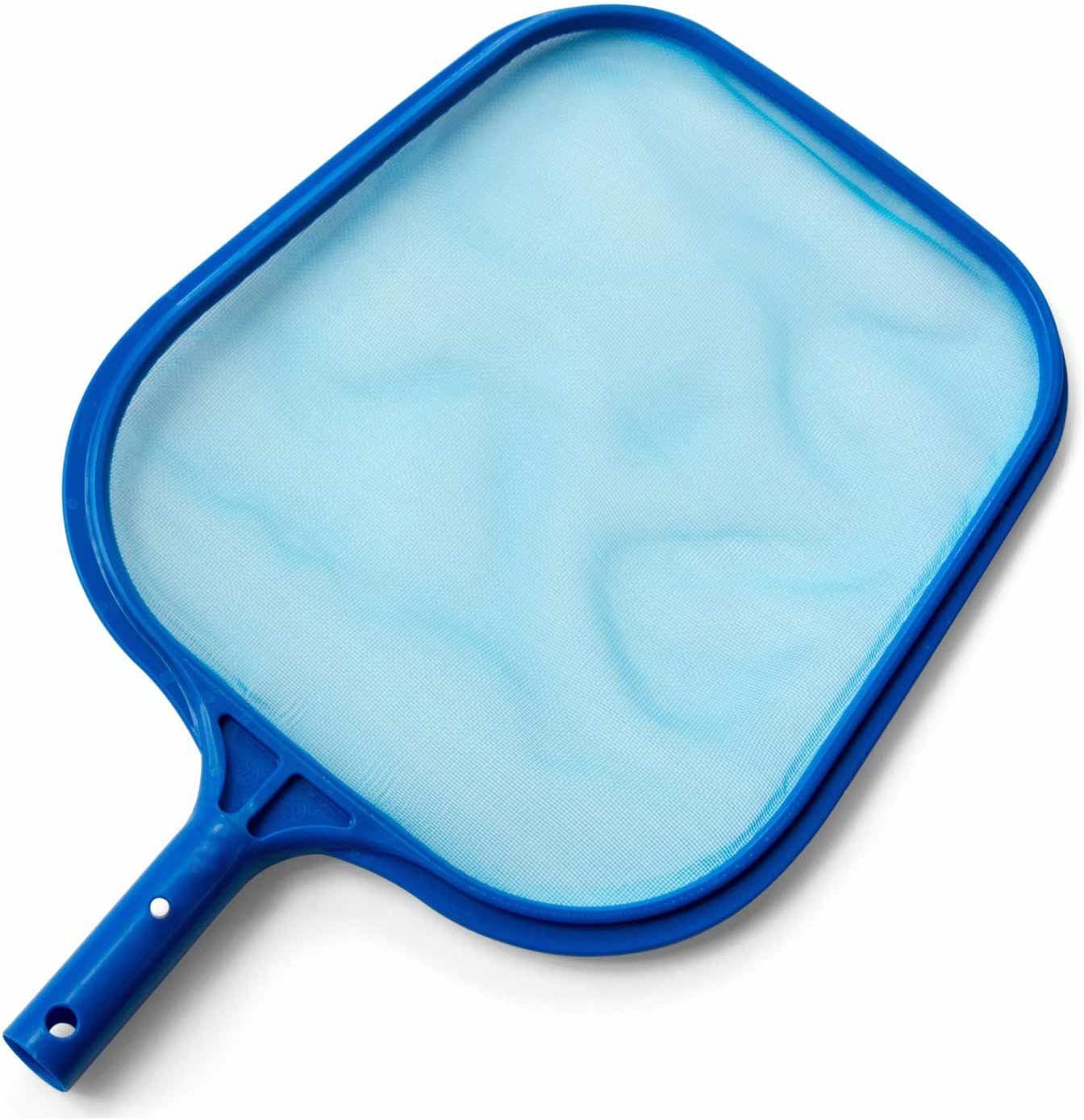 Feature:
With its fine mesh net and reinforced high-quality plastic frame, this skimmer net is perfect for removing even the tiniest particles from your pool. It comes with a 30-days money back guarantee and lifetime warranty.
Bought in May 22 used one season, stored inside in shed over winter. Opened pool today got net to skim surface of pool and net ripped from frame just from water pressure moving it in pool. Cheep made in china junk don't buy or buy if ya just need it for one season. ——
⭐⭐
Lee Elaban:
Hope this one lasts longer than the previous one I ordered did
This is a replacement for the last one I ordered It only lasted 3 days and the netting on both sides separated from the blue plastic rim ——

⭐⭐

⭐⭐
Very flimsy not worth the purchase ——

⭐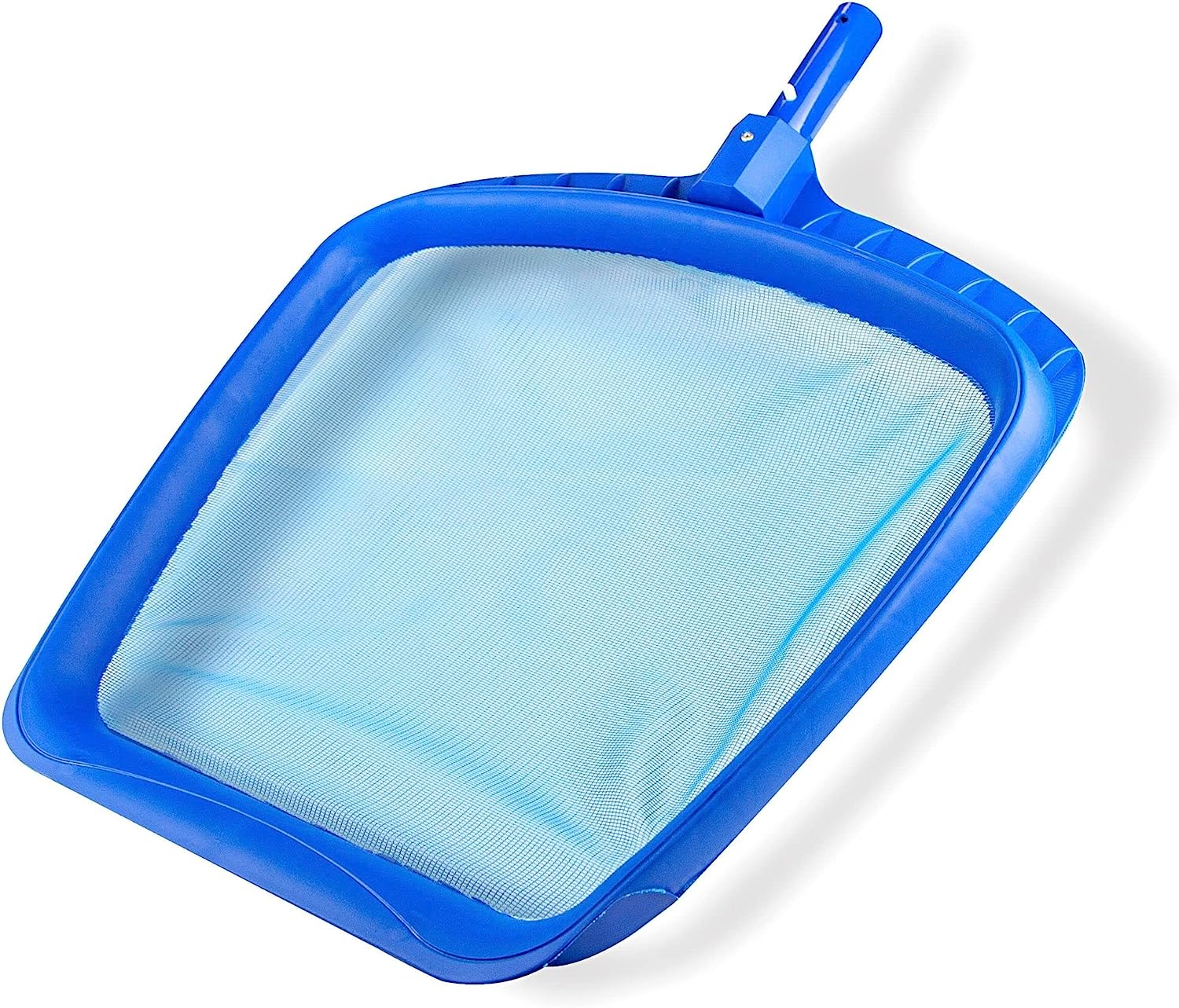 Feature:
Constructed with high quality double reinforced molded resin plastic material built to minimize flex under pressure - durable to last many seasons to come.
eggplanty:
nice and wide for leaves
I use this for my inground pool.
pros: pricing, wideness of net. lightweight (I attach it to an inground fiberglass pole)

Cons: as previously written by others, the head cracks inside the plastic casing. Mostly because there is only one attachment point (instead of 2) inside the pole. I have attached a picture of the head and where is stresses and cracks. I was able to get one summer out of it. I Have purchased more of them. The sturdiness is lacking but the price point is good. ——

⭐

⭐⭐
Because the skimmer head is extra large, that makes it extra heavy. It is heavy duty, but it is much more difficult to lift debris out of the pole due to the weight of this head. I used it all last year but decided to go back to my standard lighter weight skimmer net for this pool season. ——

⭐

⭐⭐
Tam As
:
Does not fit intex pole
Despite the "fits almost all poles" in the description, it did not fit my Intex 3 part telescopic pole. Spent 15 minutes to make a coupling out of a 1" PVC pipe. Now I don't mind the challenge, but I hate sellers who sucker us into buying things that don't work as advertised. I'm giving 2 stars because once I was able to mount it, it's actually a fairly good net. ——
⭐⭐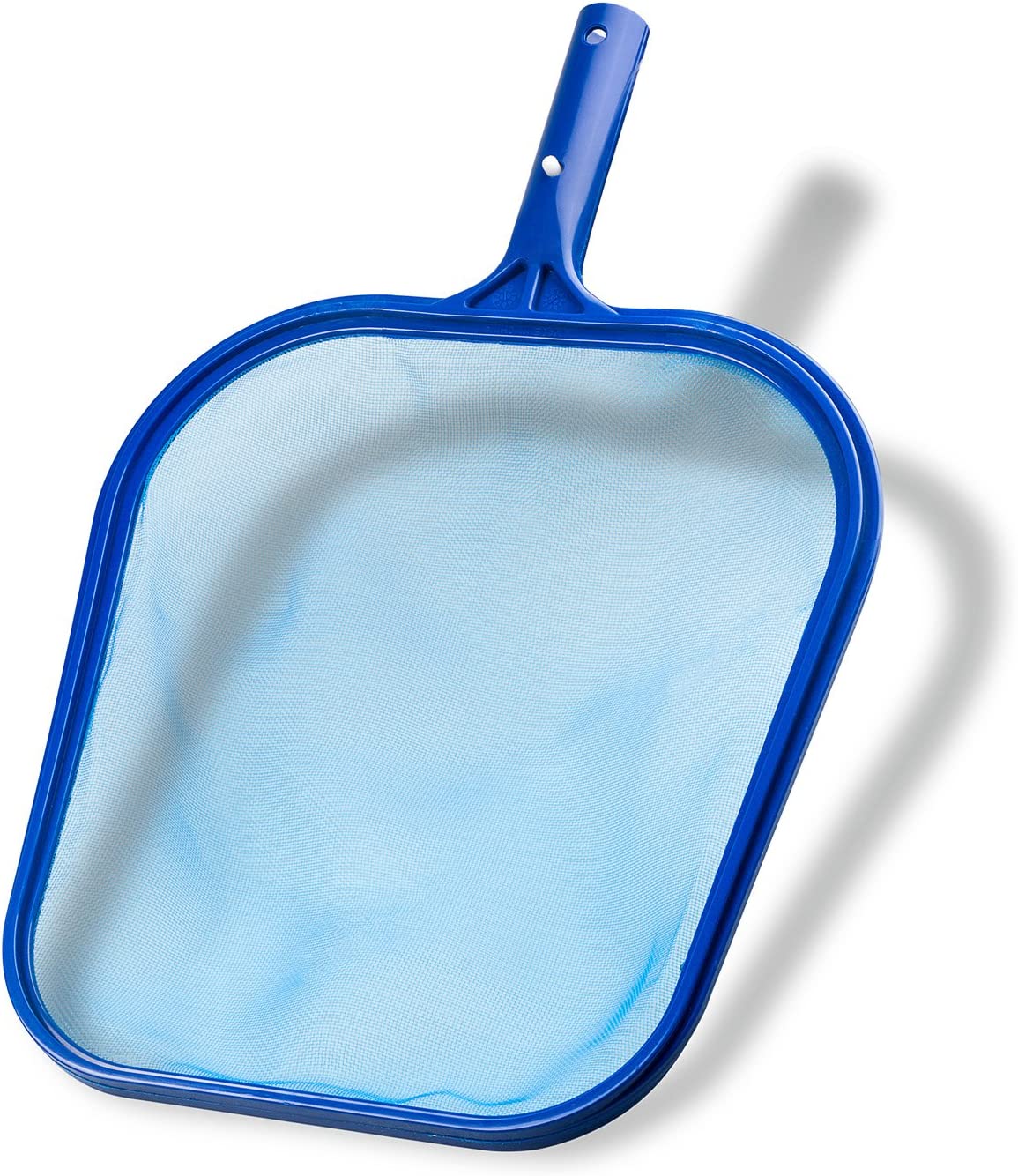 Feature:
Study but light-weight, high quality plastic frame and fine-mesh basket allows pool skimmer net to glide effortlessly through the water. Perfect for first time pool owners or as a replacement pool skimmer. It also comes with 30 days money back guarantee
Karen Fleming: Lasted only 1 season
Buyer beware....you get what you pay for. This was sturdy while I needed it, but lasted only one season. When I went to use it upon opening my pool again, the netting fell completely off in one section.——