30-Day Money Back Guarantee

12-Month warranty from date of purchase
AQUAFYSH JET10 is a cordless, portable, easy to use and fascinating robotic pool cleaner that safeguards the health of those who love to swim.
An advanced water sensor, which is embedded in the AQUAFYSH JET10, is designed to activate the cleaner automatically when fully submerged in water and deactivate the cleaner when taken out of water, in order to avoid motor damages and user injuries.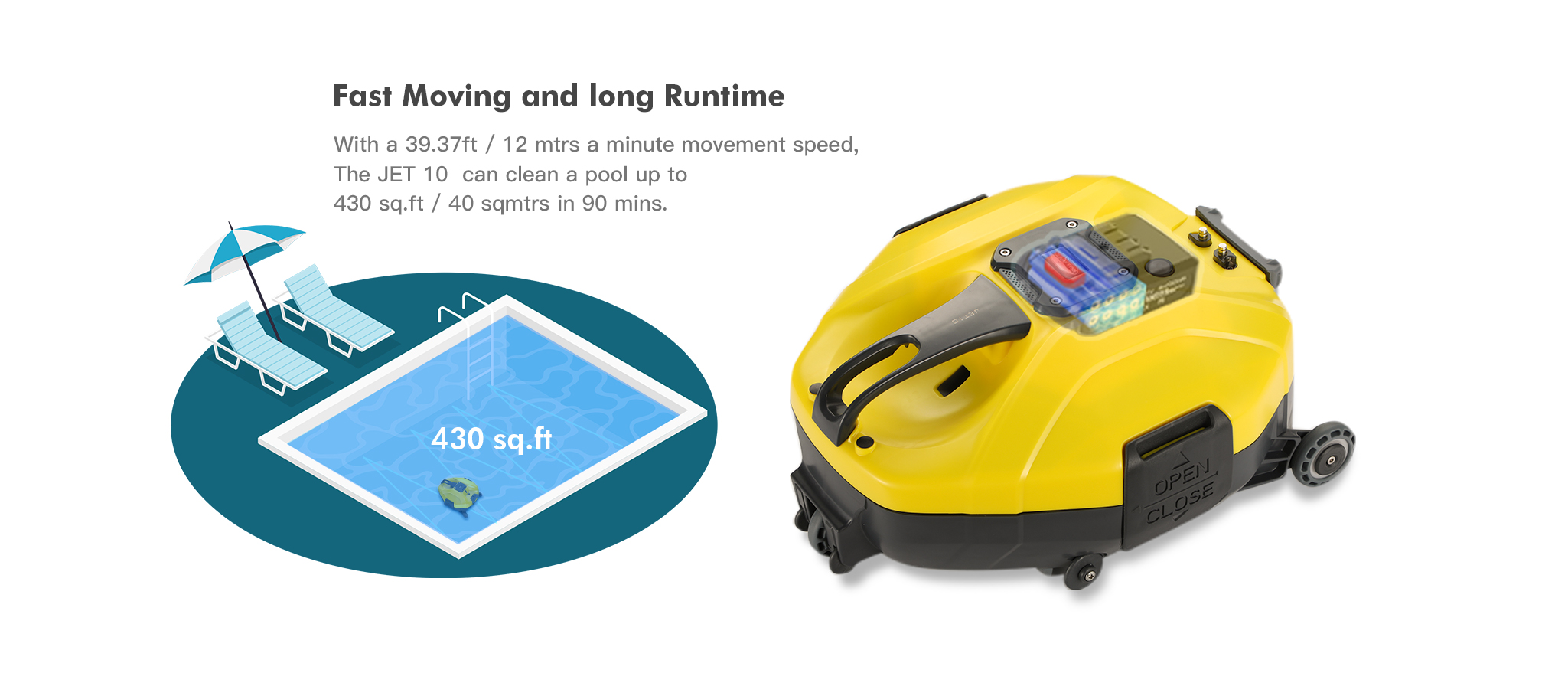 With a built-in 2500mAh lithium battery, the run time is 45% longer than similar products.Make your pool sparkling clean efficiently.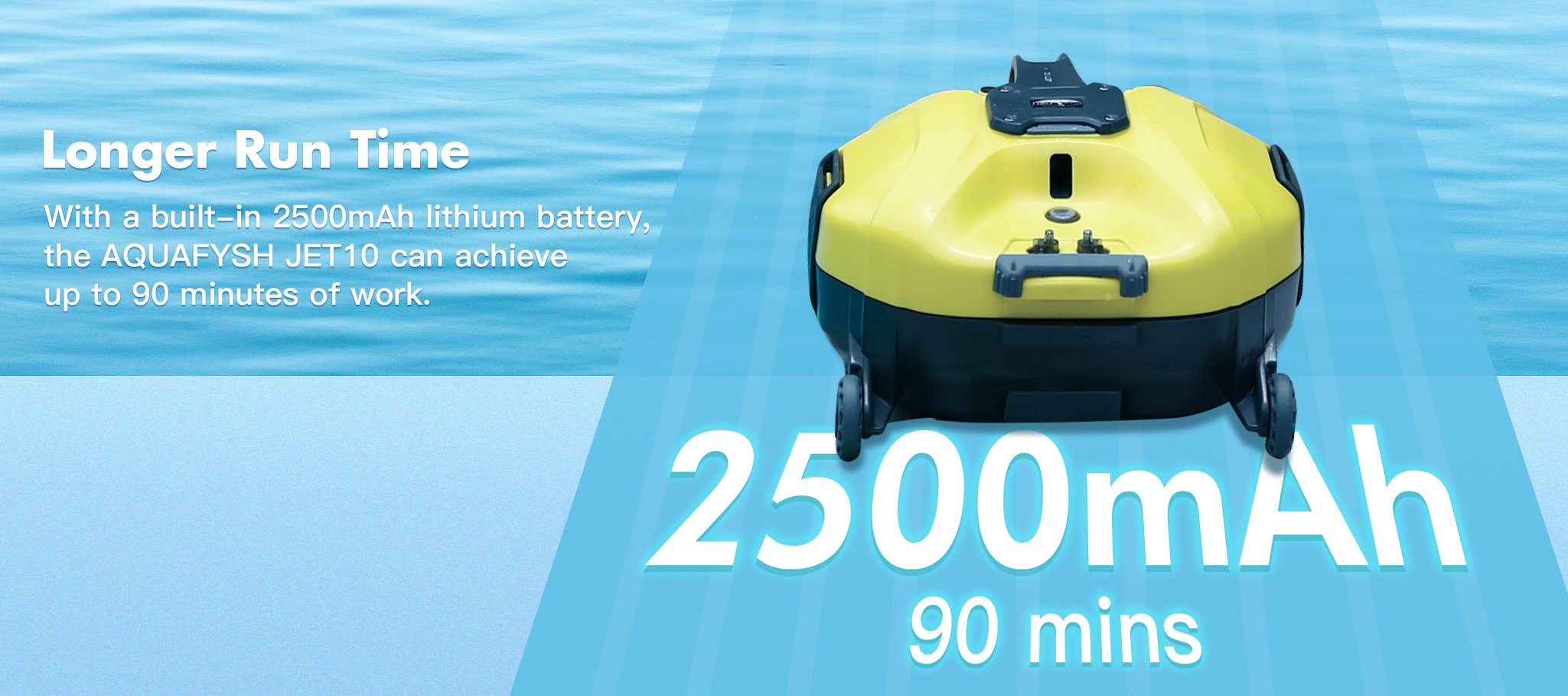 No Installation&Hoses, No Booster Pump&Suction Lines,robotic pool cleaner requires minimal maintenance, do not rely on any additional equipment to get the job done.There are 2 wide suction doors, water flows out through the open nozzle to thrust the pool cleaner to move forward.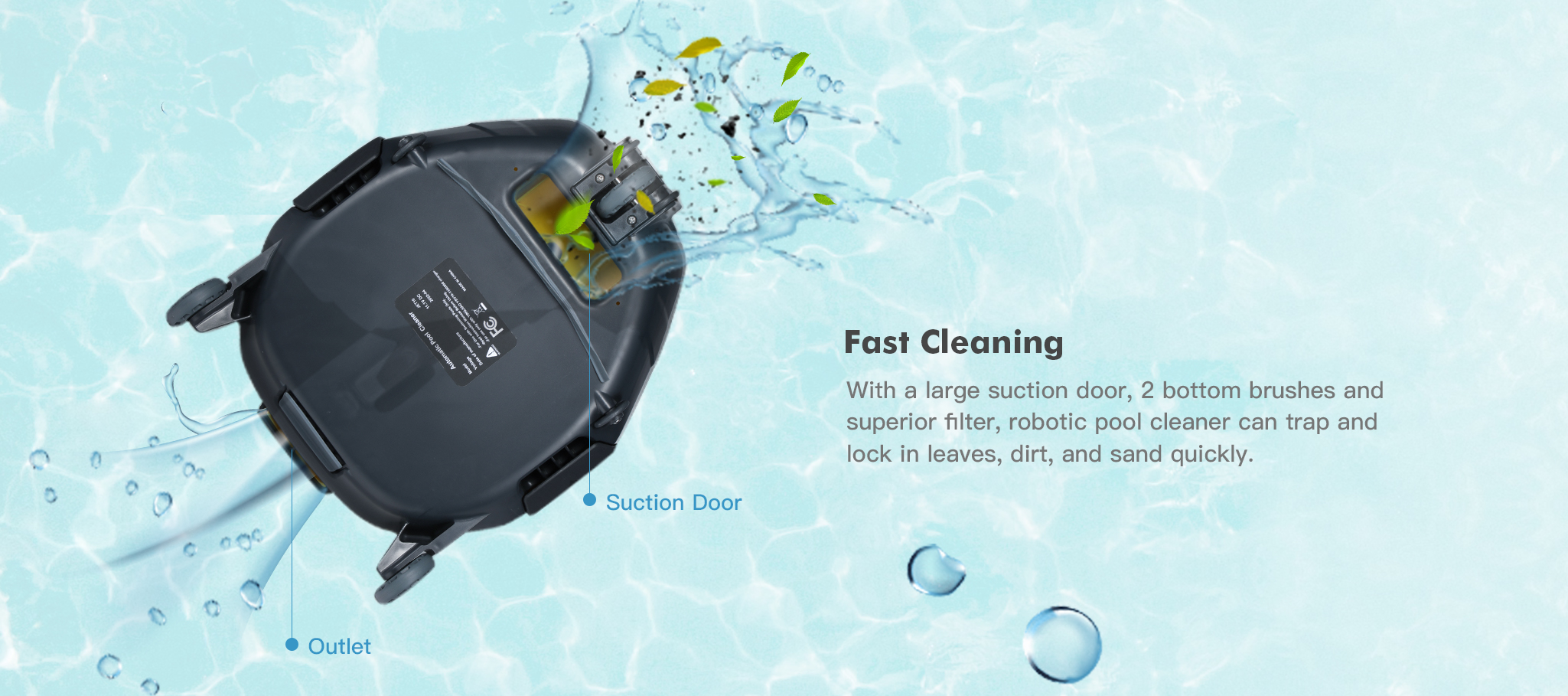 Only 6.8lb, so it is the AQUAFYSH JET10 is lightweight and easy to pull out of the water. Intelligent release function prevent the pool cleaner from getting stuck behind the pool ladder or getting beached on the drain covers in the deep end.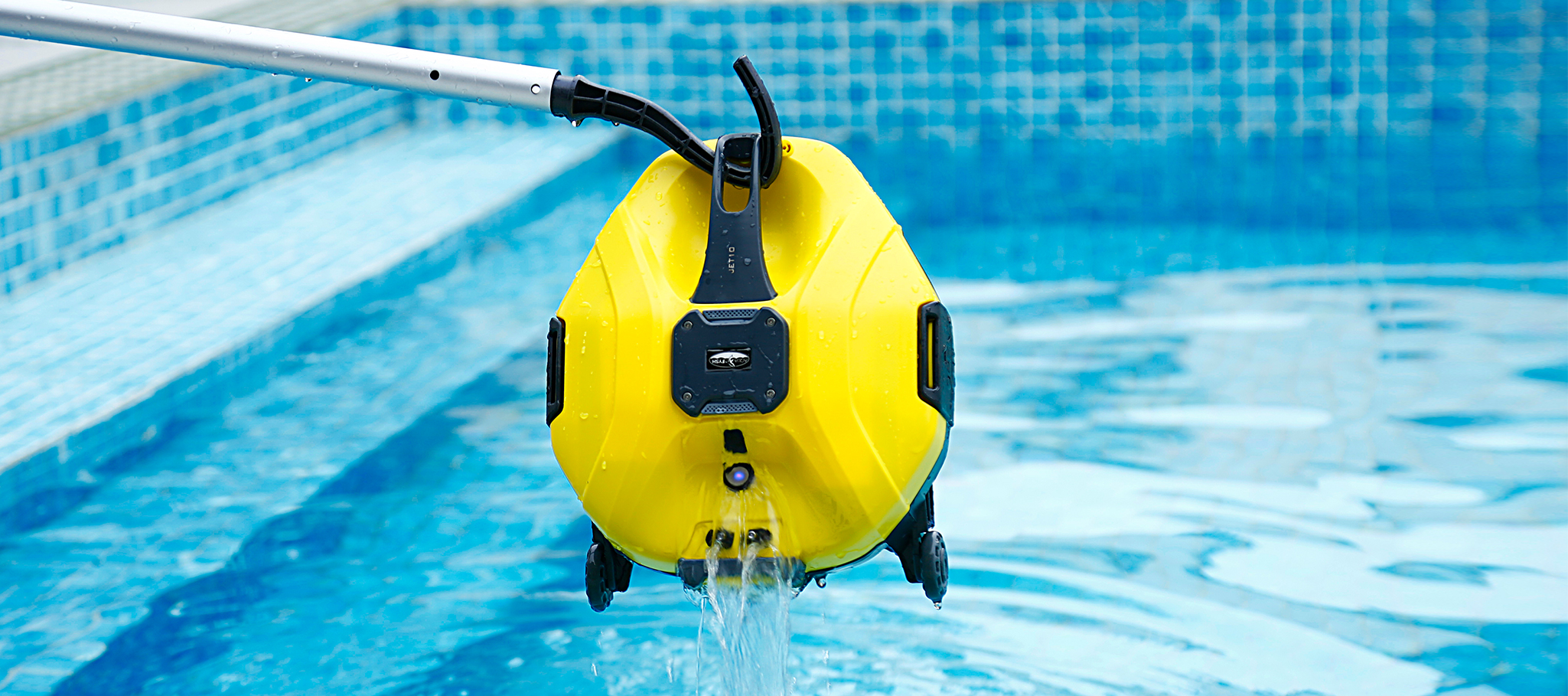 You'll never have to touch debris again with our easy-clean filter canisters. As your robotic pool cleaner traverses back and forth across your pool collecting dirt and debris, it's conveniently stored in the filter canister where it can be readily removed.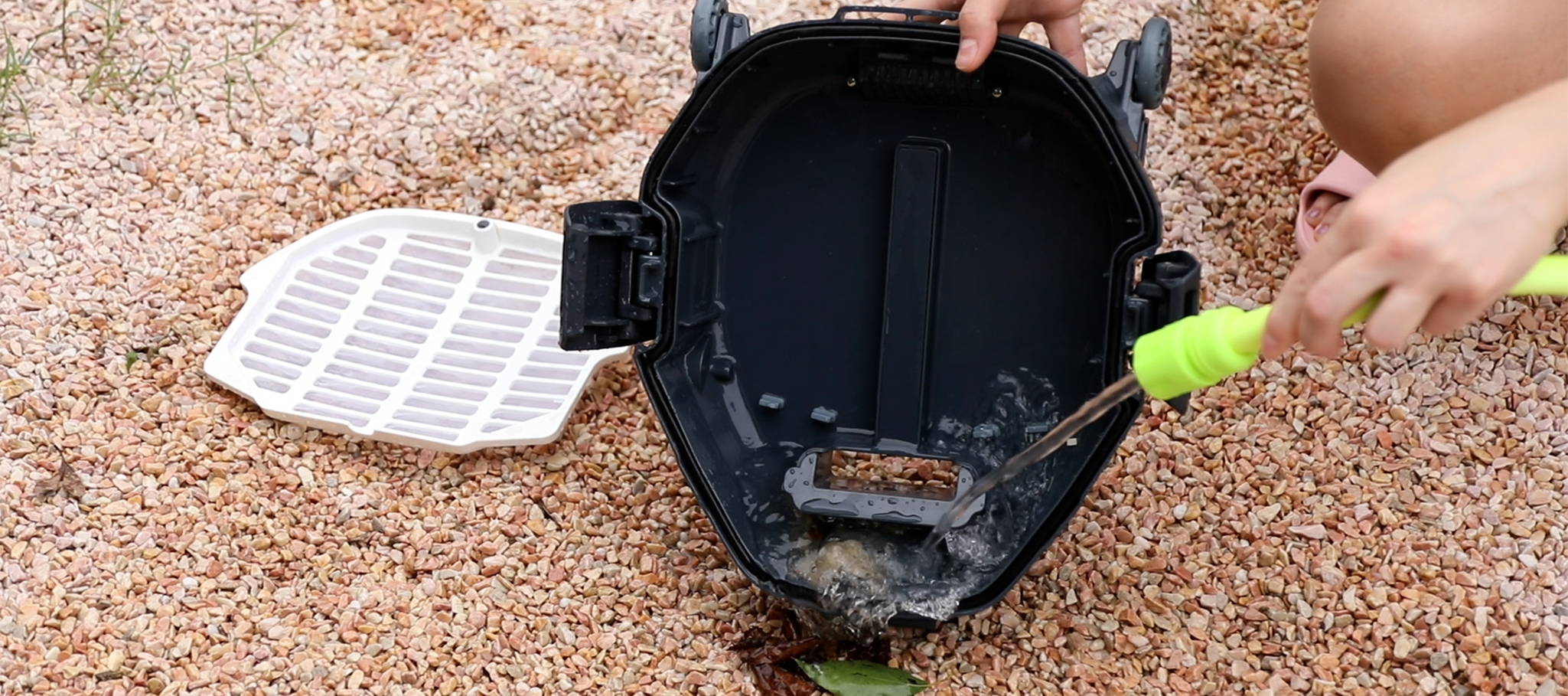 Ideal for Above Ground Pools and In-Ground Pools of flat bottom up to 18 feet. Suitable for all lining (PVC, tiles, vinyl or gunite) and shapes (round, rectangular,or oval).
Product Parameters
| | |
| --- | --- |
| Model | JET10 |
| Battery | 11.1V 2500mAh 27.75Wh |
| Max. Cleaning Area | Up to 50㎡/538sq.ft |
| Max. Cleaning Cycle | 70-90Min (77°F ambient temperature) |
| Charging Time | 2-3h |
| Charging Power | 13W |
| Charging Method | Contact Type |
| Water pump motor type | Brushed motor |
| Filter Precision | 0.05-0.07mm |
| Fault Self Detection | Yes |
| Diving Auto Start | Yes |
| Intelligent path planning | Yes |
| Applicable Pool Type | Ceramic tile pool, Steel pool, Polymer pool, Resin pool |
| Max. Pool Depth | 19.69 ft/6m |
| Max. Running Speed | 39.37ft/min |
| Max. Flow Rate | 12m³/h |
| Pool Bottom Cleaning | Yes |
| Pool Wall Cleaning | No |
| Garbage Collector Capacity | 2L |
| Waterproof Level | IPX8 |
| Appliance Working Temperature | 41°F-95°F(5°C-35°C) |
| Battery Operating Temperature | 41°F-113°F(5°C-45°C ) |
| Product Dimension | 11.8X11.6X6.5inch |
| Packing Size | 14.7X13.2X10.2inch |
| Net Weight | 3.1Kg |
| Gross Weight | 4.8Kg |
Included in the Box
Robot Cleaner ×1
Charger ×1
Desiccant ×1(Take it out immediately after unpacking,and no contact with water)
Flat Suction Nozzle ×1
Scrubbing Brush×1
Hook ×1
User Manual ×1
Rear Brush Strip 1 in Unit 1 Extra
Front Brush Strip 1 in Unit 1 Extra
User Manual ×1