30-Day Money Back Guarantee

12-Month warranty from date of purchase
Energy efficient & Long-Lasting
The large capacity 4400mAh rechargeable battery lasts up to 180minutes provides you a better and exquisite cleaning. The ELF08 Pro uses less power per time and save on energy costs.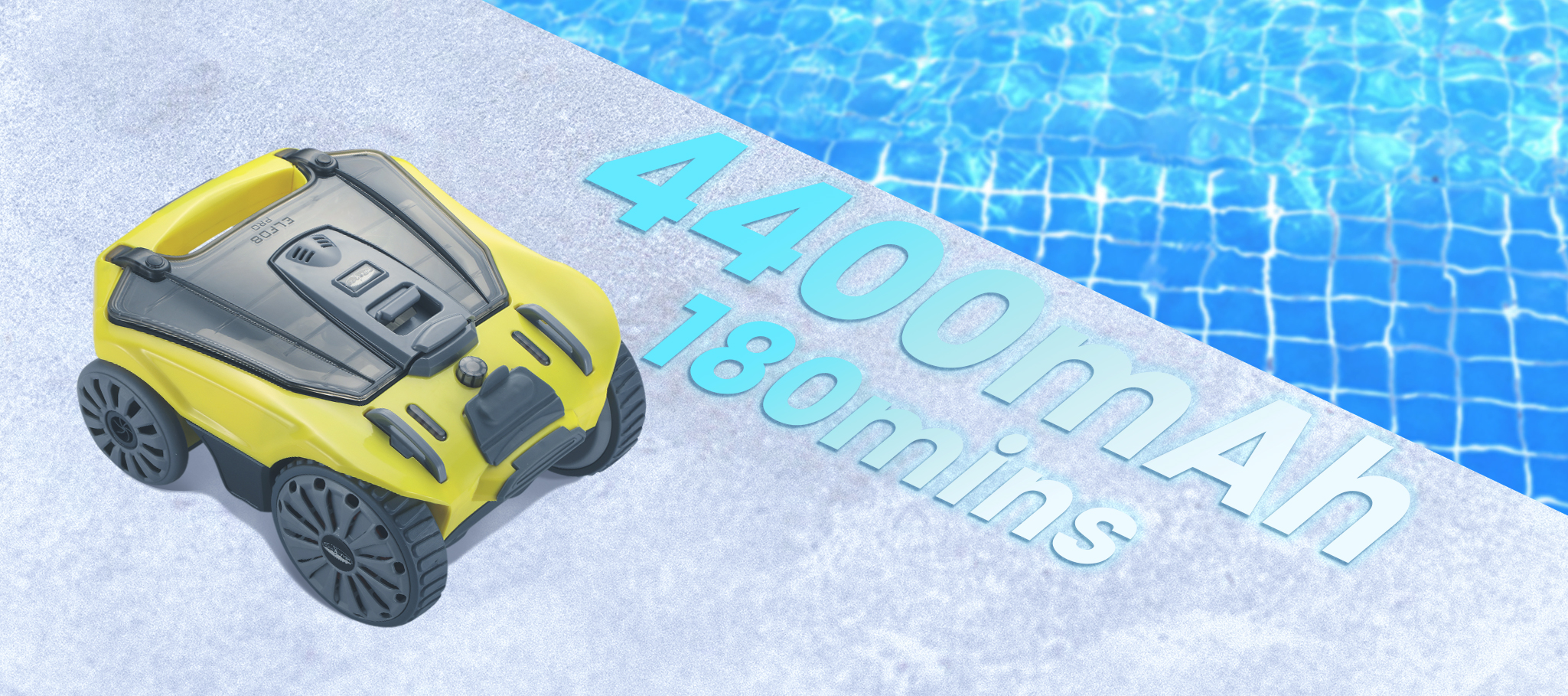 With the powerful hall motor, the innovative design ensures your pool's floor are crystal clean and ensures the efficiency in absorbing dirt is 50% higher than similar products per mAh.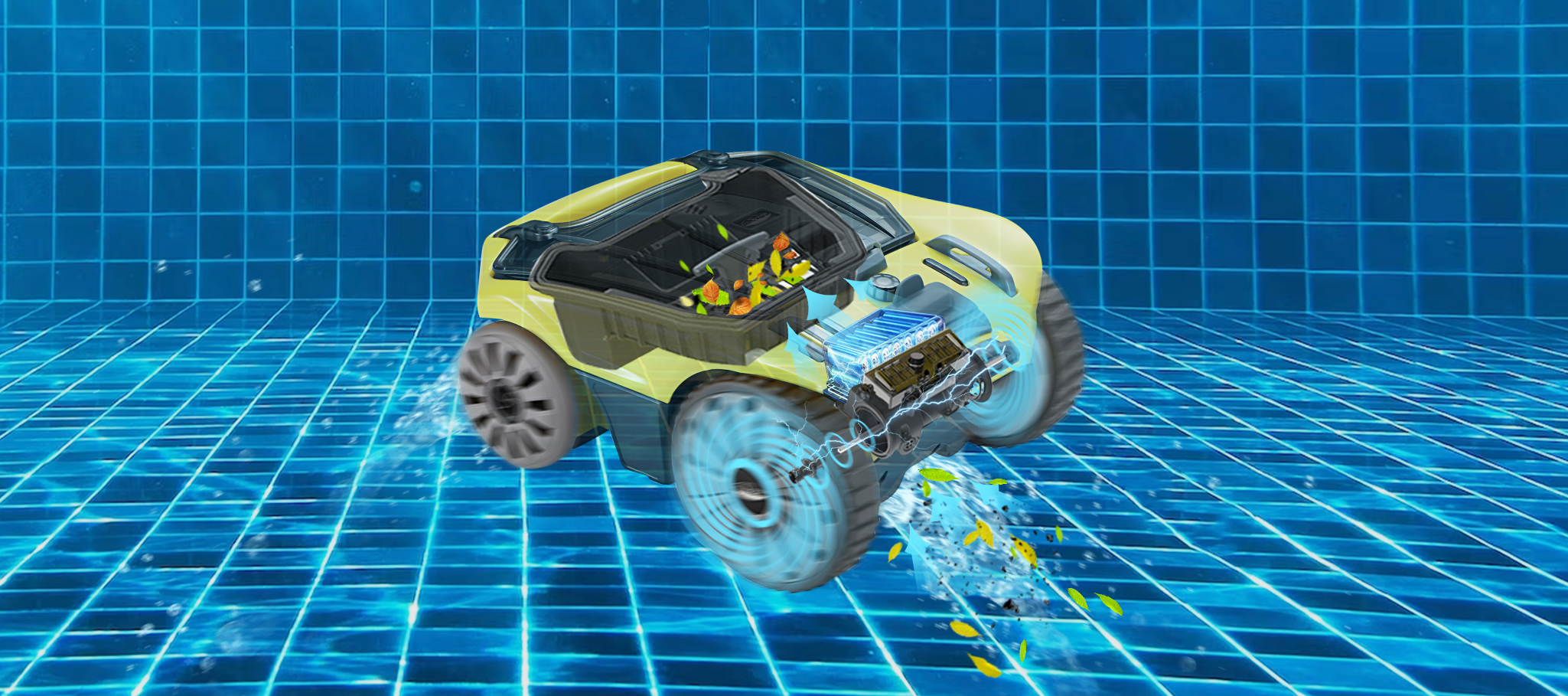 The ELF08 Pro can effortlessly traverse the pool bottom at a speed of 39.37 ft/12 mtrs a minute. Equipped with a wider suction nozzle, ELF08 Pro pulls in kinds of matter from debris to algae and small stones to leaves up to 5.5" wide.Two large water outlets, four bottom brushes and a filter tray keep your pool water clean as usual.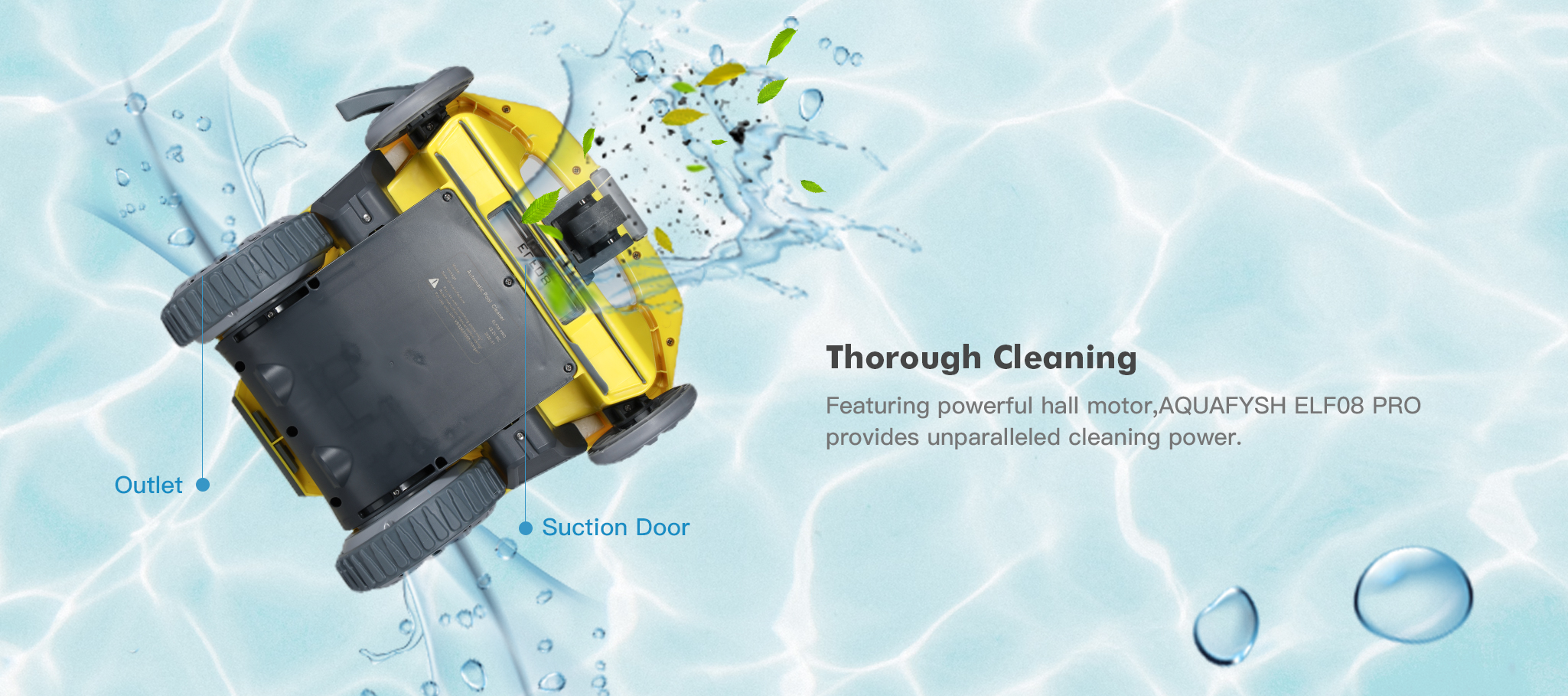 Intelligent Full Coverage Path
The ELF08 Pro sizes up your pool to determine the approximate dimensions and chooses the optimum cleaning route for your pool.It will park near the pool wall when the battery is low or a cleaning cycle is complete.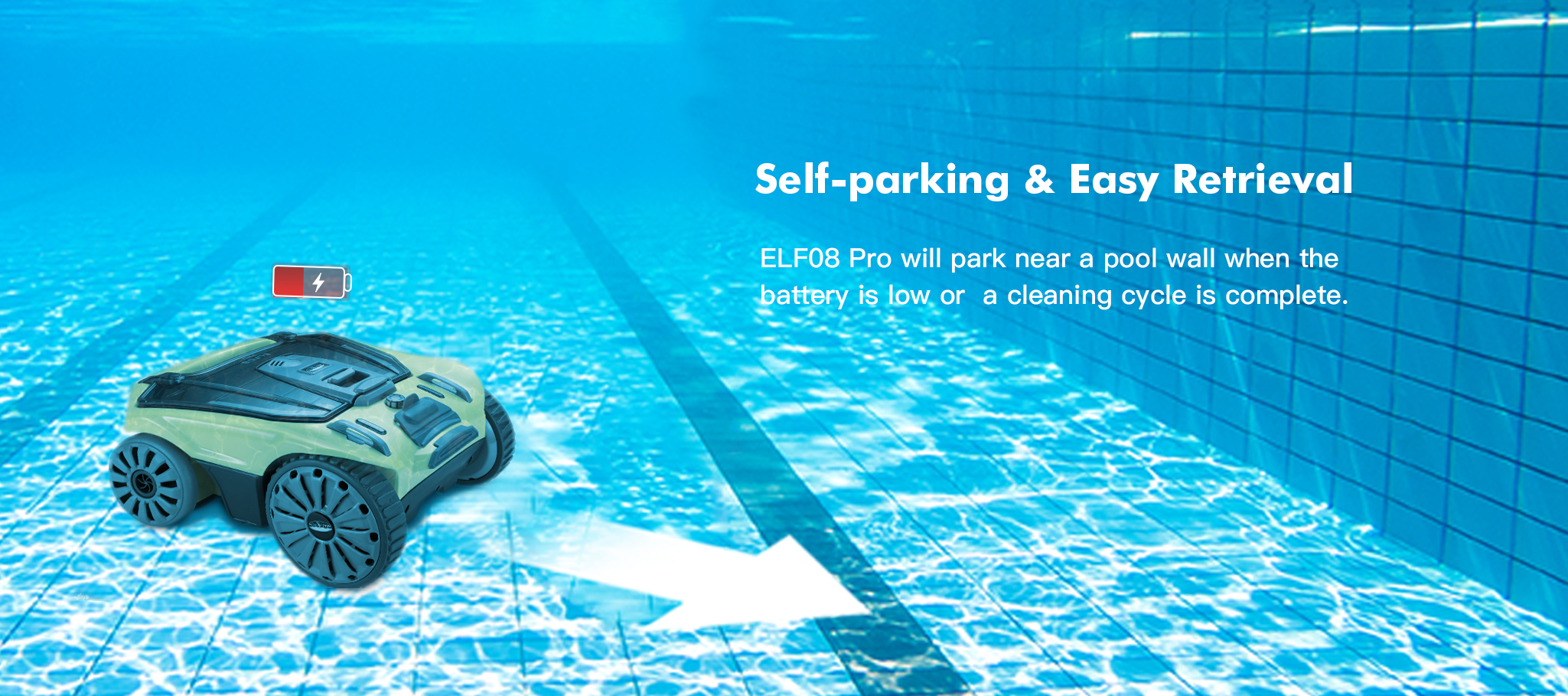 Cordless Design & Save Labour
The ELF08 Pro cordless automatic pool vacuum will take care of everything, and no worries to connect a power cable or to deal with cord entanglement and the risk of power short-out.When ELF08 Pro is taken out of the water, it will start dewatering which can save labour.
Top-load filter access for easy and convenient debris removal and cleaning.You'll never have to touch debris again with our easy-clean filter canisters.

Fits All Flat-Bottom Pools
Ideal for Above Ground Pools and In-Ground Pools of flat bottom. Suitable for all lining (PVC, tiles, vinyl or gunite) and shapes (round, rectangular,or oval).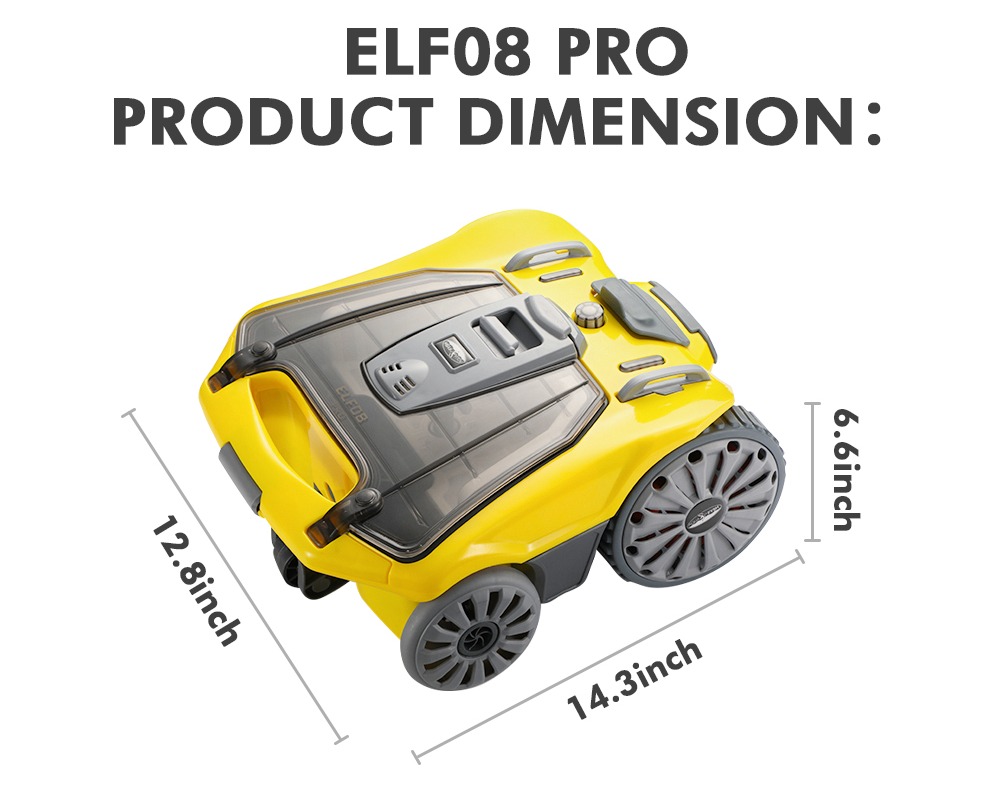 Product Parameters
| | |
| --- | --- |
| Model | ELF08 Pro |
| Battery | 22.2V 4400mAh 97.68Wh |
| Max. Cleaning Area | Up to 100㎡/1076sqft |
| Max. Cleaning Cycle | 180min(77°F ambient temperature) |
| Charging Time | 4-6h |
| Charging Power | 26W |
| Charging Method | Contact Type |
| Water pump motor type | Hall motor |
| Filter Precision | 0.05-0.07mm |
| Fault Self Detection | Yes |
| Diving Auto Start | Yes |
| Intelligent path planning | Yes |
| Applicable Pool Type | Ceramic tile pool, Steel pool, Polymer pool, Resin pool |
| Max. Pool Depth | 236inch/6m |
| Max. Running Speed | 472inch/min |
| Max. Flow Rate | 12m³/h |
| Pool Bottom Cleaning | Yes |
| Pool Wall Cleaning | No |
| Garbage Collector Capacity | 2L |
| Waterproof Level | IPX8 |
| Appliance Working Temperature | 41°F-95°F(5°C-35°C) |
| Battery Operating Temperature | 41°F-113°F(5°C-45°C ) |
| Product Dimension | 14.3X12.8X6.6inch |
| Packing Size | 15.9X14.7X10.2inch |
| Net Weight | 4.9Kg |
| Gross Weight | 6.8Kg |
Included in the Box
Robotic Pool Cleaner ×1
Filter 1 in Unit ; 1 extra
Charger ×1
Hook ×1
Rear Brush Strip 1 in Unit ; 1 Extra
Front Brush Strip 1 in Unit ; 1 Extra
Small Particle Suction Sleeve ×1
Tire Cover 2 in Unit ; 2 extra
User Manual ×1