Talk me into the best robotic pool cleaner!
Aug 02,2022 | AQUAFYSH
| | | | | |
| --- | --- | --- | --- | --- |
| | Maximum Cleaning Cycle | Max Cleaning Slope | Work Depth | Water Absorption Rate |
| Elf08 pro | Max 180 minutes | 20° | >2m | 28.3 liters/min |
| Seagull 1000 | Max 90 minutes | 15° | 1-2m | 25.3 liters/min |
| Jet10 | Max 90 minutes | 15° | >2m | 23.3 liters/min |
| Seagull 600 | Max 50 minutes | flat | 1-2m | 20.3 liters/min |
Long Battery Life
As a robotic pool cleaner, endurance is the primary consideration. Because of the poor battery life,it needs to be charged when the pool cleaning work has not been completed, which greatly affects the cleaning efficiency and is also a waste of time. This will greatly affect the experience of cleaning the entire pool, and the repeated cleaning of the area will also lead to a waste of time. The Seagull 1000 has a maximum clean life of 90 minutes. However the maximum cleaning life of the AQUAFYSH ELF08 PRO is 180 minutes, which is much higher than that of its competitors and twice as long. Meanwhile, the Seagull 600 only has a maximum clean endurance of 50 minutes, while the AQUAFYSH JET10 has a maximum clean endurance of 90 minutes. It is obviously that AQUAFYSH is more advantageous in pool cleaning.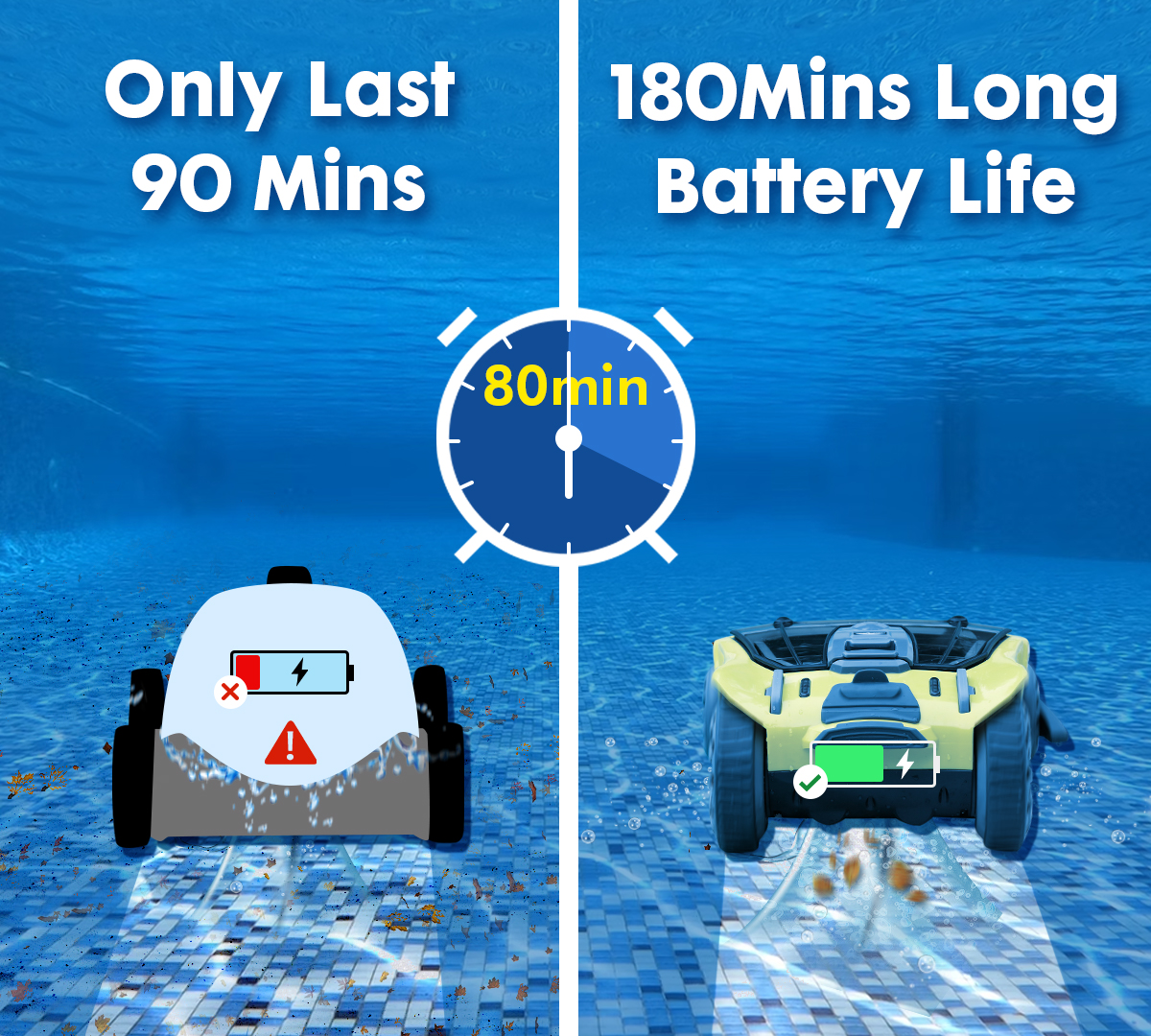 Higher Slope to Clean
The size of the cleaning pool slope will affect the type of robotic pool cleaner. The higher cleaning slope of the machine, the wider pool types that can be cleaned. In daily life, not all pools are flat. But AQUAFYSH works well in many kinds of pools because the maximum cleaning slope of AQUAFYSH ELF08 Pro can reach 20°and the maximum cleaning slope of JET10 can reach 15°. Unfortunately,the maximum cleaning slope of Seagull 1000 is only 15°,not to mention the seagull600, which only works in flat pools. AQUAFYSH's robotic pool cleaners are dominant in the types of swimming pool cleaning. Choosing AQUAFYSH is a multiplier for consumers in need.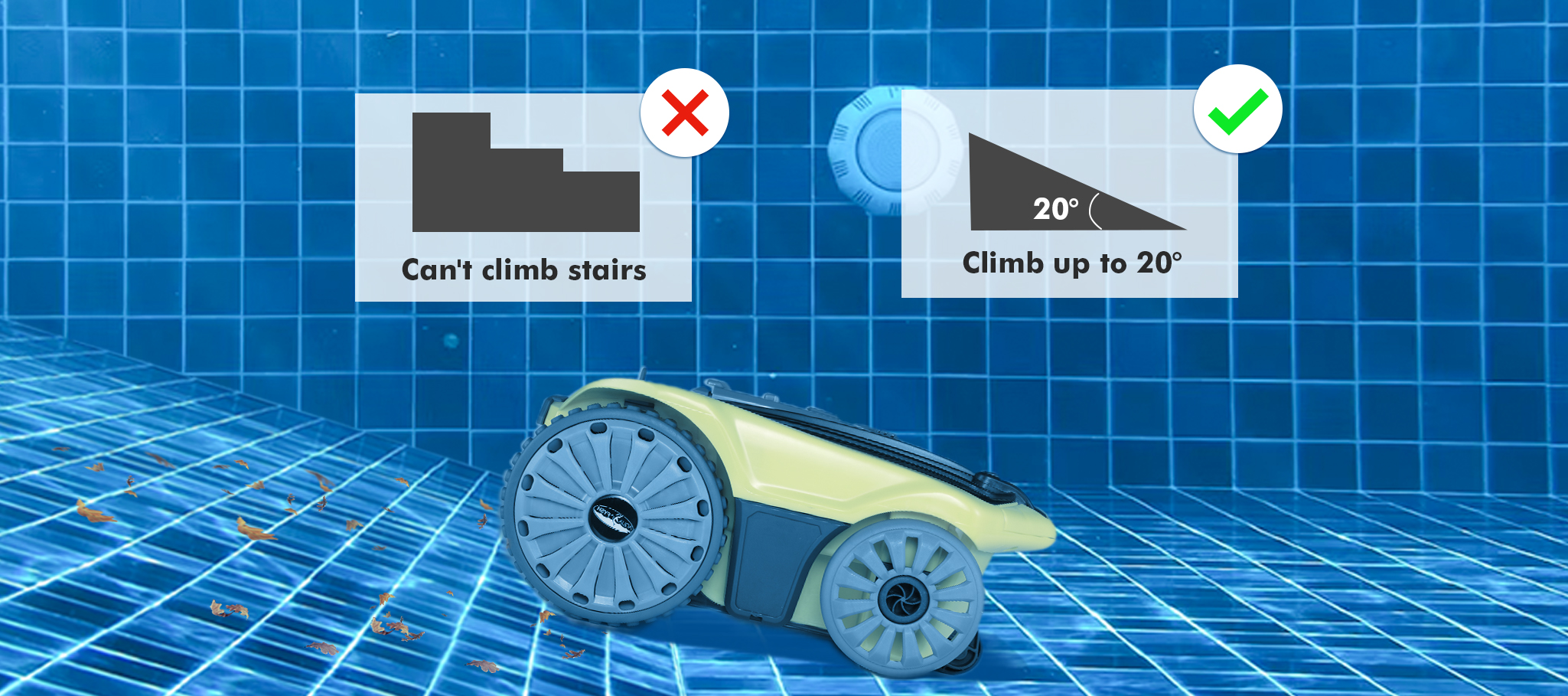 More Effective Water Absorption
AQUAFYSH's effective water absorption is better generally. The higher the absorption of water, the stronger the ability to absorb underwater waste. ELF08 PRO and JET 10 adopt single-port adsorption technology, which has large capacity and strong adsorption. Their effective water absorption rates are 28.3 liters/min and 23.3 liters/min, respectively, which are much higher than competing products. In terms of its ability to absorb waste, AQUAFYSH also occupies a leading position in the market and is favored by consumers.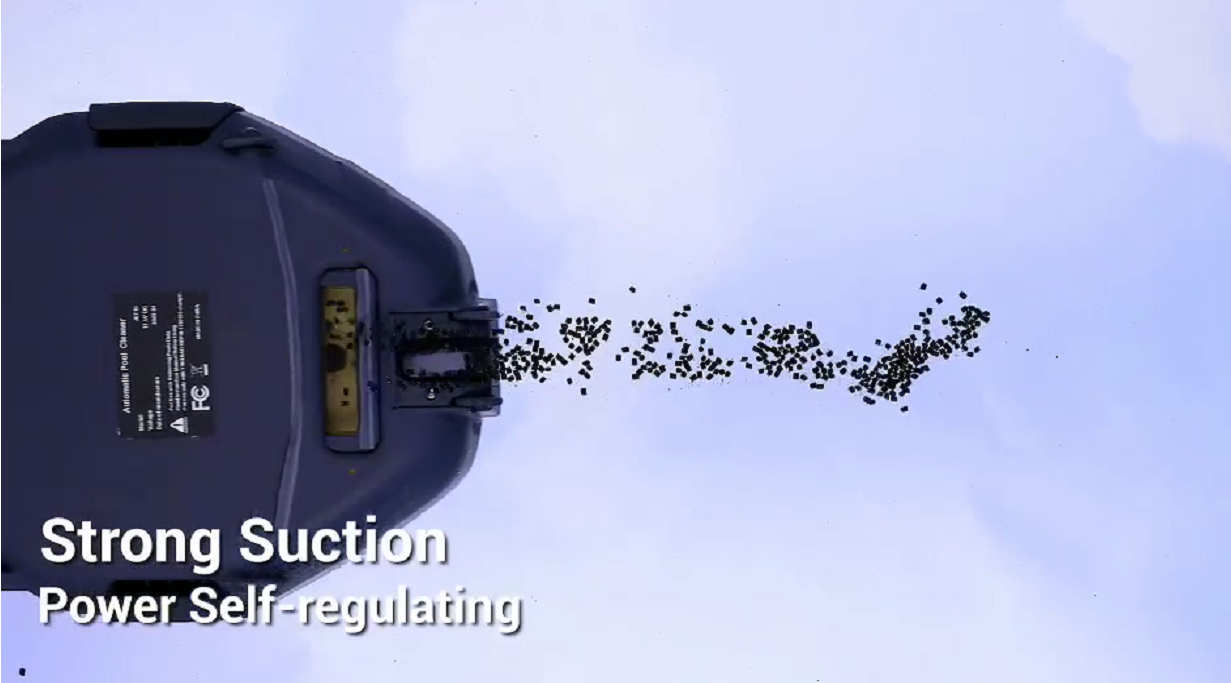 Work in Deeper Water
At the same time, many competing products can only clean 1-2 meters underwater, but AQUAFYSH can clean the swimming pool at a deeper depth, which is also a feature that competing products cannot compare with.
Conclusion
AQUAFYSH is the best at pool cleaning. Compared with competing products, it has great advantages in many aspects. For the cleanliness of your home pool, choose AQUAFYSH!Shop now!
Comment