How to Choose the Most Suitable Robotic pool Cleaner for Different Swimming Pools ?
Aug 12,2022 | AQUAFYSH
There are various kinds of pools in the world. In-ground pools or above ground pools with different shapes and different functions. What kind of pool do you have? Do you know which robotic pool cleaner is best for your pool?
Let me briefly introduce four common swimming pools.
1.Inflatable pool
An inflatable pool is very convenient for families that don't have a large enough yard. It is not only easy to use that you just need to stretch it, inflate it, and fill it with water but also easy to store because it doesn't take up much space. Besides,you can easily move these pools from place to place. Inflatable pools use fewer materials, chemicals, and water making them eco-friendly and easy to manage.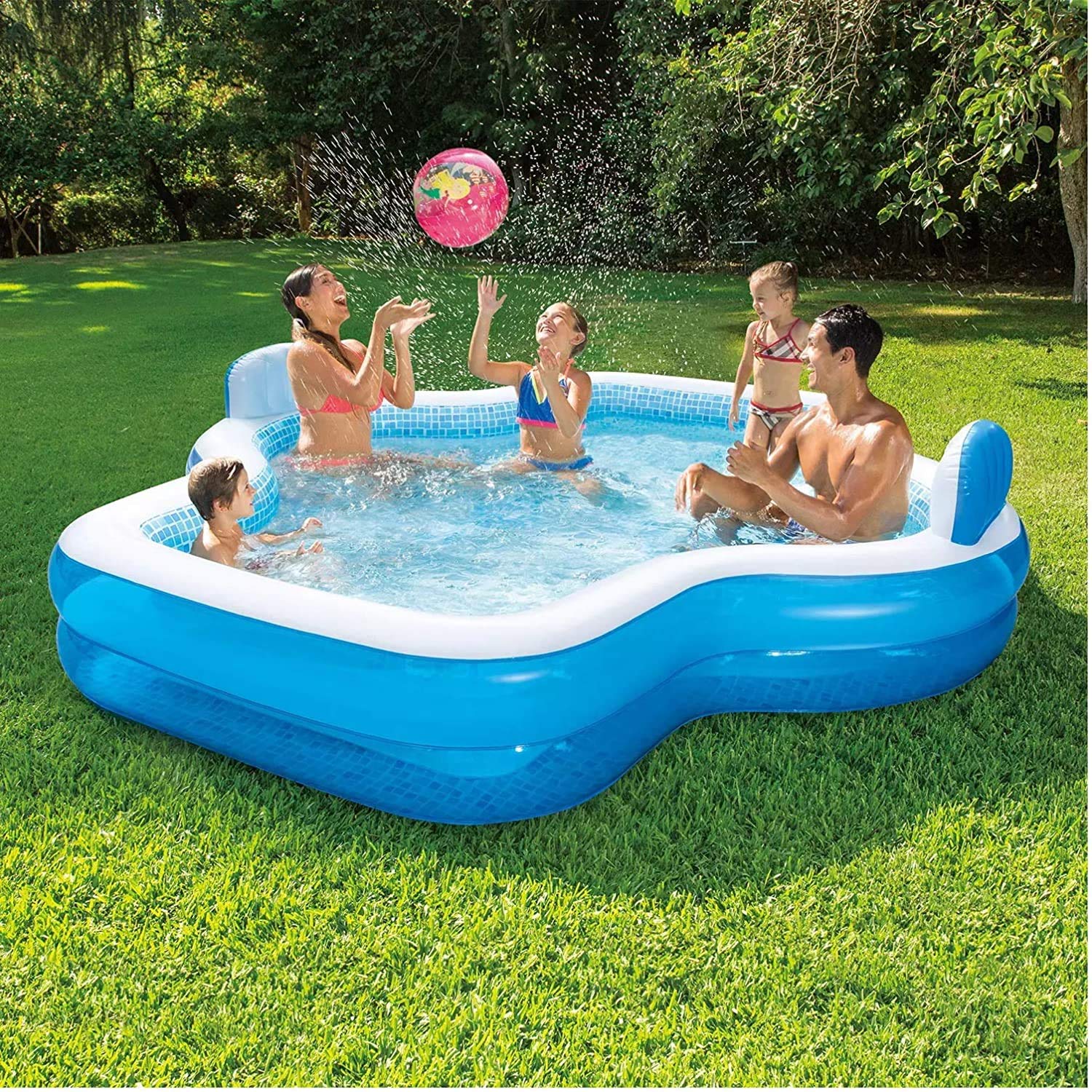 2.Above ground pvc pool
PVC swimming pool with commercial, practical and highly sought after by the market. Its appearance is simple and generous, thermal bonding technology firm and beautiful. And this design can effectively avoid the time-consuming and laborious excavation of the swimming pool.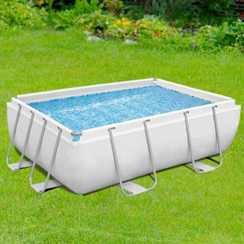 3.Flat in-ground pool
Flat in-ground pools are very common. With a flat bottom, your pool features the same depth in all sections. It is generally suitable for many people of different ages. For ball games, these pools are also the best option since all the participants are submerged at the same level.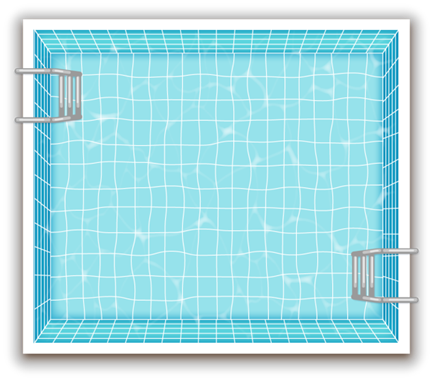 4.Sloped bottom in-ground Pool
For a better entertainment experience, many private swimming pools or jacuzzi are sloped. Most of these pools have shallow and deep water areas for children and adults. For sloped pool cleaning, not all pool cleaning machines are suitable.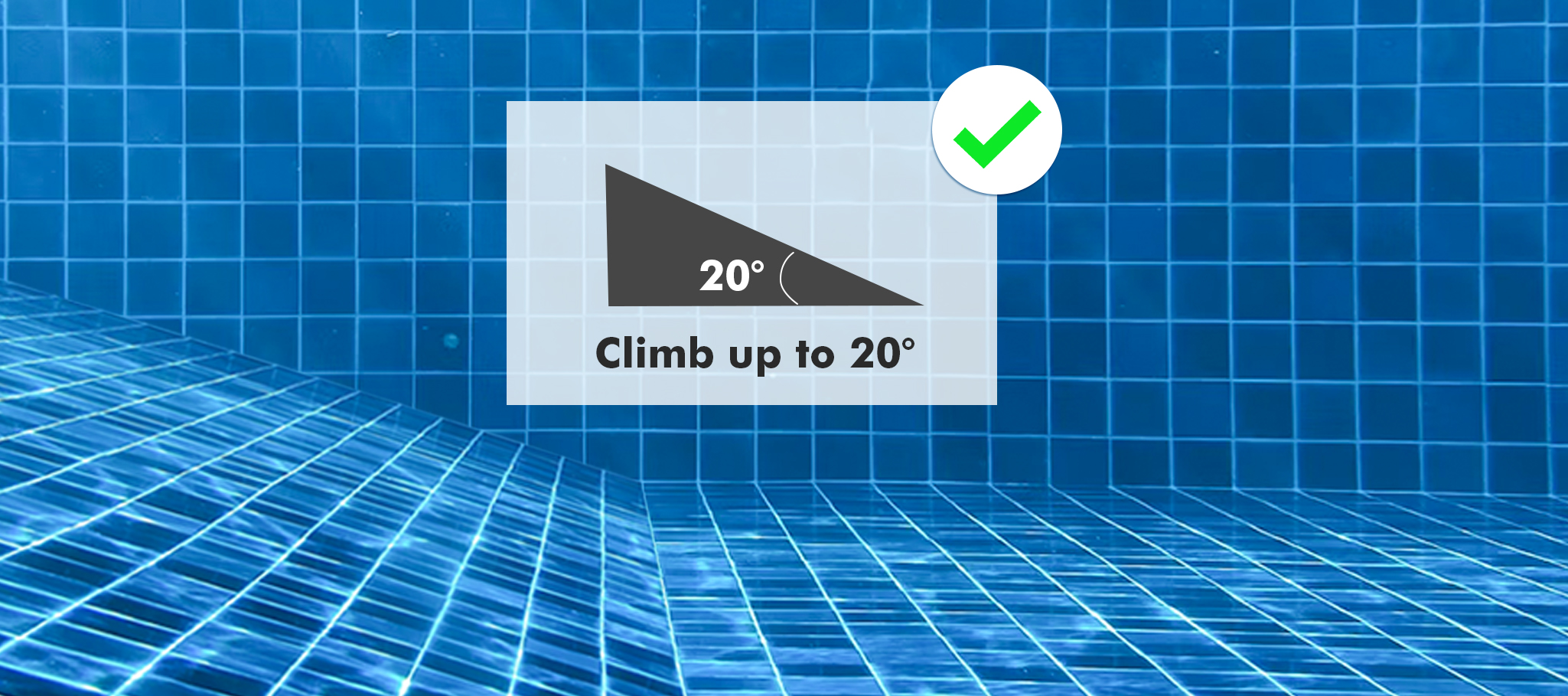 Which is the most suitable robotic pool cleaner for each swimming pool?
Let's take a look at the parameter comparison of various robotic pool cleaners.
| | | | | | |
| --- | --- | --- | --- | --- | --- |
| | Elf08 Pro | Jet 10 | Seagull 600 | Seagull 1000 | |
| Price | $399 | $249 | $269.99 | $369.99 | $1447 |
| Corded/Cordless | cordless | cordless | cordless | cordless | corded |
| Cleaning coverage | Floor only | Floor only | Floor only | Floor only | Floor,wall,waterline |
| Pool surface | slope20° | slope15° | flat floor | slope15° | |
| Battery life | 180mins | 90mins | 50mins | 90mins | 180mins |
| Applicable pools | 1.2.3.4 | 1.2.3.4 | 1.2.3 | 1.2.3.4 | 3.4 |
Suitable for Inflatable Pool(215sq ft~323sq ft):Jet10 vs Seagull 600
Generally, the area of ​​inflatable swimming pools is not very large. So we recommend two robotic pool cleaner models Jet10 and Seagull 600. The maximum runtime on Seagull 600 is only 50 minutes, which is shorter than other options on this table. However Jet10 has a twice runtime as Seagull 600 of 90minutes. Therefore the cleaning area of Jet is larger than Seagull600 and the cleaning ability of Jet10 is better than Seagull600. Jet10 is more worth to buy.
Suitable for Above Ground PVC Pool& Flat In-ground Pool(538sq ft):Elf08 Pro vs Seagull 1000
Among its competitors, the Elf08 Pro can run for up to 180 minutes on a full charge. The Seagull1000 has a maximum operating time of 90 minutes, so the Elf08 Pro has a larger cleaning area than the Seagull1000, and the Elf08 Pro has a better cleaning capability than the Seagull1000. For your better cleaning experience, I suggest you buy the Elf08 Pro.
Suitable for

Flat In-ground Pool(1076sq ft):Elf08 Pro vs Dolphin Premier
Dolphin Premier is a swimming pool cleaning machine with wire, which may lead to electric shock under uncertain circumstances. For large pools, corded pool cleaning machines are obviously troublesome and difficult to fully clean the pool due to its limited wire length. Elf08 Pro can solve all the above problems, cordless design totally free your hands to clean up any corner of the pool. What's more? The price of Elf08 Pro is about a quarter of that of Dolphin Premier.
Suitable for Entire

Pool Cleaning include Walls:Dolphin Premier
It is undeniable that the most expensive Dolphin Premier has a wall-climbing function unmatched by other competitors.Because the cord line can provide powerful working power to the swimming pool cleaning robot, it can climb the wall and clean the pool wall with a large angle. If you have enough budget to buy a robotic pool cleaner with wall-cleaning function, Dolphin Premier is the best choice.
Conclusion
AQUAFYSH is more worth buying among products with the same features and similar prices. As the previous comparison shows, AQUAFYSH is suitable for various kinds of swimming pools and it shows a better cleaning performance. AQUAFYSH can help you save extra cost of cleaning your pool, greatly enhance your swimming experience and bring you a higher quality of life.
Comment