The Must-have Robotic Pool Cleaner of 2022: AQUAFYSH ELF08 Pro Cordless Robotic Pool Cleaner
Jun 10,2022 | AQUAFYSH
Cleaning a swimming pool is a full day task, sometimes an entire weekend task, thanks to technological advancements, we don't have to do everything, even with robotic pool cleaners, there are plenty of options. We think the winner of all these options is the ELF08 Pro Cordless Robotic Pool Cleaner. It has everything you need to keep your pool clean. Let's dive into the details of it. The product we are talking about is the ELF08 Pro Cordless Robotic Pool Cleaner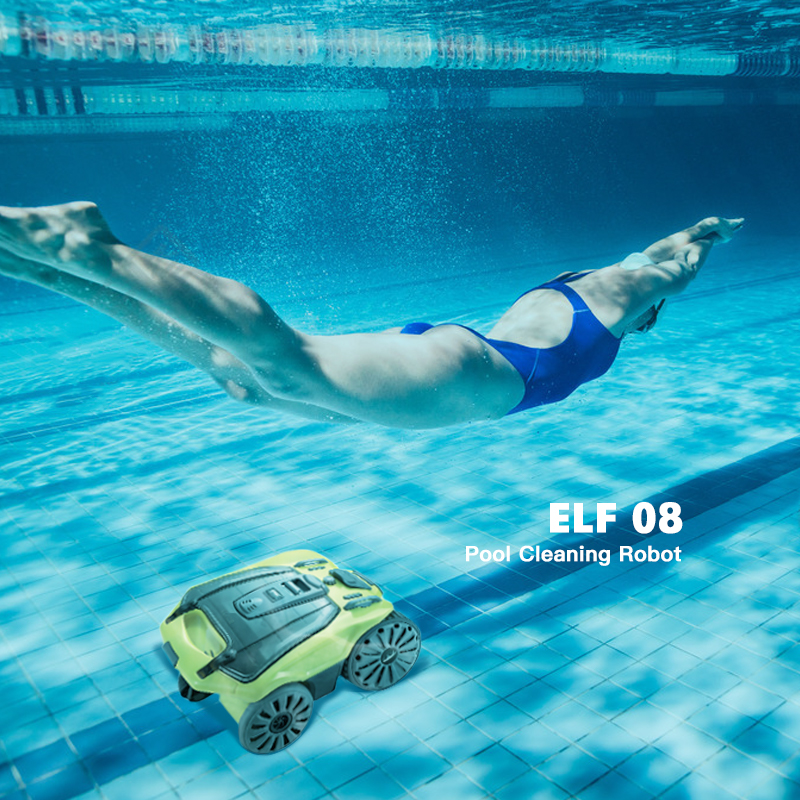 What is AQUAFYSH's ELF08 Pro/10
1.AQUAFYSH 08 PRO/10 Cordless Robotic Pool Cleaner Fluid Dynamics Design
2.Our machine has a detection device, if there is no filter, the machine will not start. (to ensure the safety of the machine)
3.Robot into water,Turns on and off automatically, no switch required
4.Automatically plan route cleaning, easy and convenient
5.Hall motor - super suction - automatic power adjustment - long service life
6.six sensors,Auto-steering
7.Automatically dock against the wall when the battery is low
8.ELF08 Pro Battery capacity: 22.2V 4400mAh 97.68Wh Working time at least: 180min Cleaning area 100㎡
ELF10 Battery capacity: 11.1V 2500mAh 27.75Wh Working time at least: 70-90Min)
9.Modular design, easy to maintain, the product is reliable and stable - easy to clean - automatic drainage
10.Super-intelligent machine, it only needs to be rinsed with a little running water to clean it up
·ELF08 Pro Packing Size:40.5X37.5X26cm
· Net Weight:4.9Kg
· Gross Weight:6.8Kg
· ELF10 Packing Size: 37.5X33.5X26cm
· Net Weight: 3.1Kg
· Gross Weight: 4.8Kg

Unboxing the AQUAFYSH ELF08Pro/10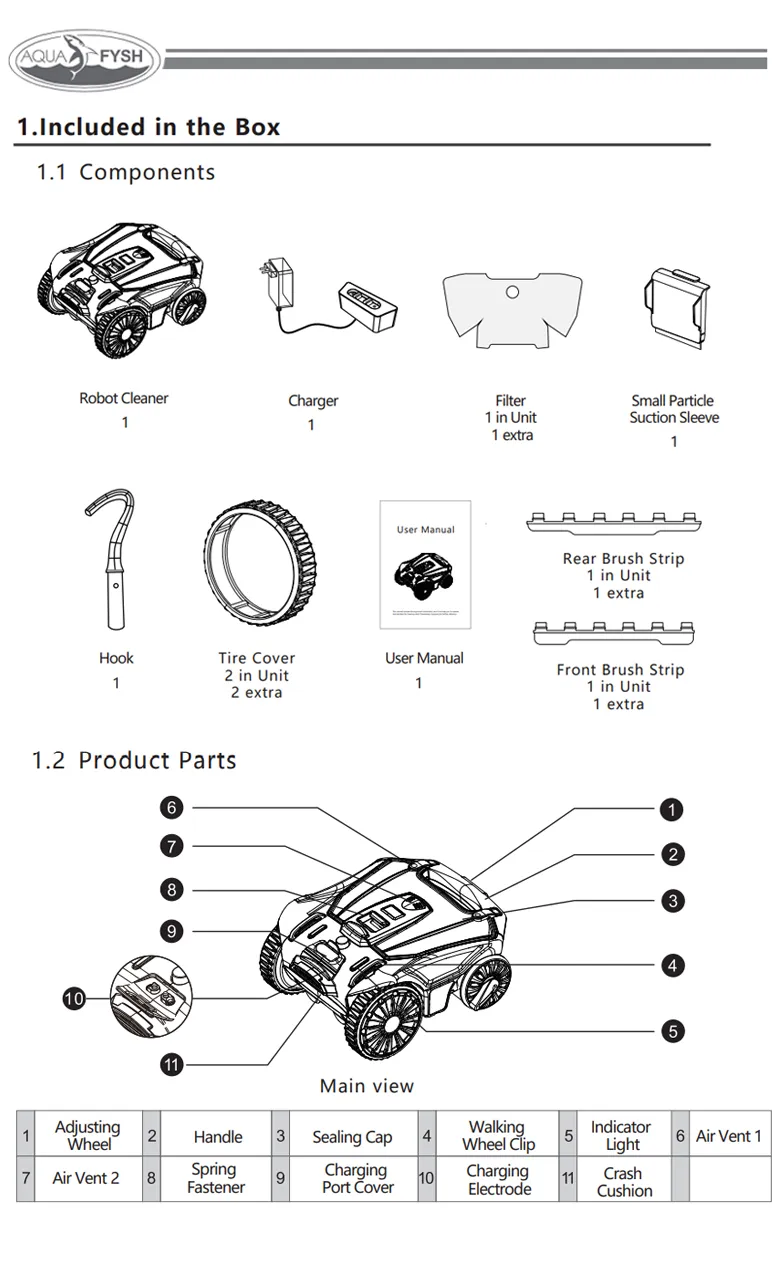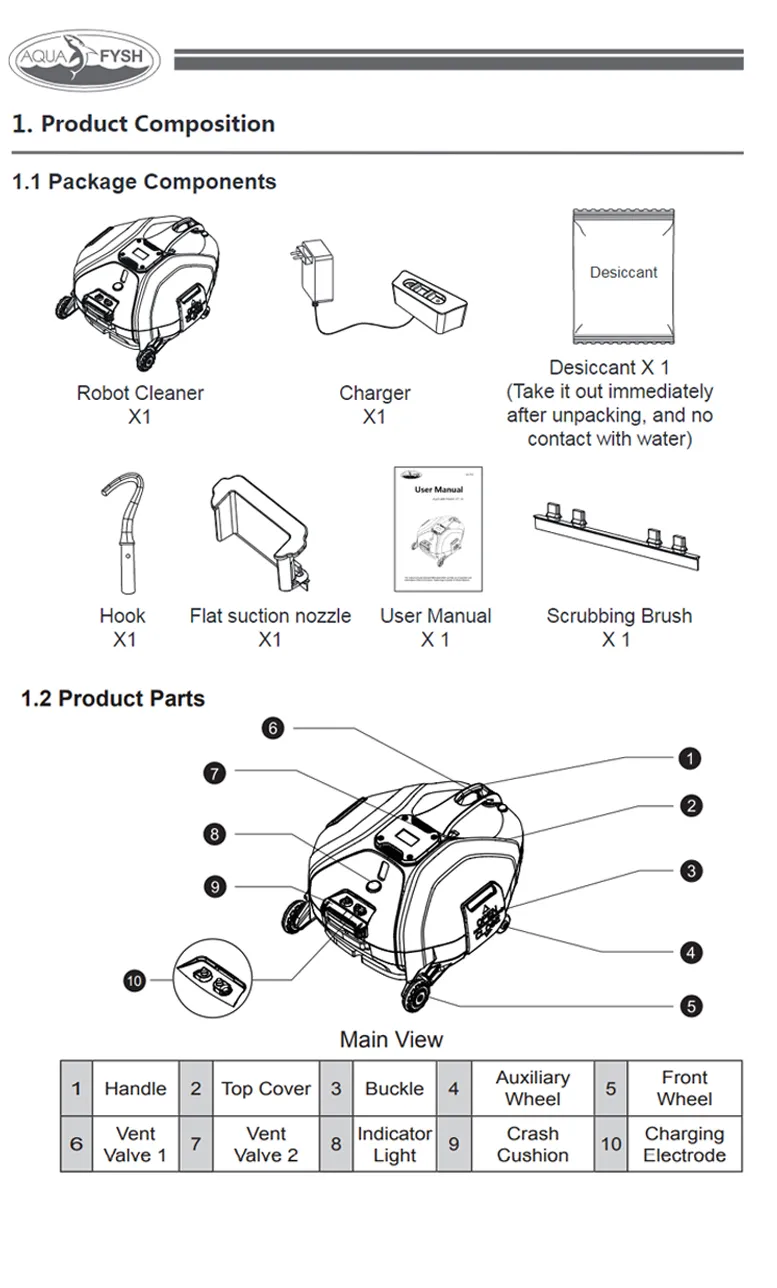 ELF08 Pro Pool Cleaning Experience
The product is well packaged and can be used directly after opening the package, no adaptation time is required, and then it can be used continuously for 90-180 minutes. It has an LED indicator to let you know if it needs charging. After charging, just put it into the water and it will start working automatically. Operation-wise, it's very easy to use, let's discuss some of its amazing features in detail.

ELF08 Pro Cleaning and Filtration
Efficient cleaning (can clean leaves, sediment, etc.) 0.15mm filter
Strong suction and ultra-high density filter, you don't need to worry about the problem of pool cleaning stains, even in complex terrain. Our ELF 08 Pro swimming pool cleaning robot is driven by wheel + water pump + paddle at the same time, with strong kinetic energy! The same space capsule design can also observe the internal situation at any time

ELF08 Pro Cleaning and Filtration
One of the coolest features of these two robots is the wireless design, and you don't have to worry about its charging point being destroyed because it's well protected. The wireless design also contributes to the overall mobility and safety of the product.

fashion design
The efficiency of AQUAFYSH is that you don't have to worry about controlling and navigating the device through the controller. You just put the device into the pool and it does its job. It's light and looks stylish.
low battery awareness
You don't have to worry about it running out of battery. It is a smart device with low battery awareness. So when its battery runs out, it gently stops with the pool so you can take it out. The owner of the AQUAFYSH can then take it out and charge it.
in conclusion
Incredible features like effective suction, battery awareness, and the ability to clean pool walls and steps make it the best robotic pool cleaner of 2021. The cordless sleek design of this friendly little robot also makes it stand out from other pool cleaners out there. Battery life is also pretty amazing. It has a lot of power along with super suction, making this purchase an investment. This product is a must-have if you want an easy, time-saving way to clean your swimming pool.
Comment