Product ExplorationⅠ:Runtime Determines All
Jul 26,2022 | AQUAFYSH
Everyone who has a pool should be familiar with robotic pool cleaner.
Maybe you are hesitating which one to buy and perhaps you have own one but do you really know which robotic pool cleaner to buy under the overwhelming advertisements?
Two Problems You may Meet
1.The current cordless robotic pool cleaners in the market have the same problem that poor cleaning effect owing to the short runtime.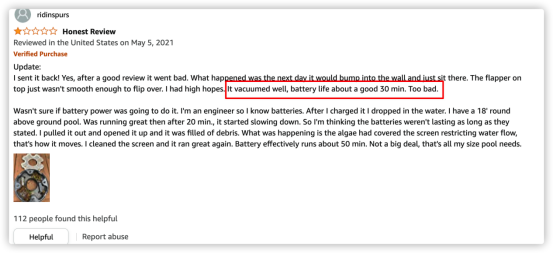 2.Those having long runtime robotic pool cleaners are equipped with cords and their prices are over $800. Besides, you have to worrying about cord entanglement and the risk of power short-out.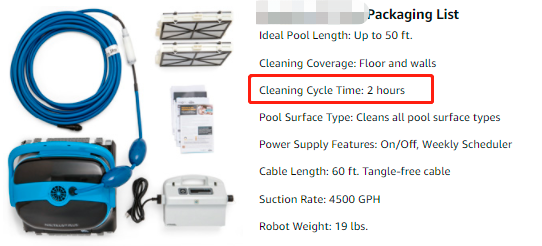 AQUAFYSH solves both problems with advanced technology.
The table below shows the performance of the ELF08 pro
| | | |
| --- | --- | --- |
| | ELF08 Pro | competitor |
| Price | $399 | $379 |
| Battery Capacity | 4400mAh | 5000mAh |
| Maximum Runtime | 180min | 90min |
| Maximum Cleaning Area | 100㎡/1076sq ft | 80㎡/876sq ft |
You may confused by our Runtime.
Why the battery capacity of ELF08 Pro is not as high as the competitors' but the runtime is twice as long ?
Reason is Technology
High-tech Hall-Motor
AQUAFYSH adopts the most advanced motor system Hall-Motor also called Brushless Motor(click to see what is brushless motor). This special motor has the advantages of lower noise, longer life and lower maintenance cost. The most important thing is that this motor is more energy efficient than other motors. Furthermore,due to its extremely high stability and power efficiency, it is often equipped in high-end drones such as DJI.
ELF08 Pro is the first robotic pool cleaner equipping with Hall-Motor in the world!
Intelligent Chip
AQUAFYSH robotic pool cleaner will automatically adjust the output power which means it will increase the power only when it encounters an obstacle, and generally it use the established power to run. This allows the robot can run for long periods of time, while competitors' robot start off with plenty of suction, then its speed will slow down along with time passage so that the battery doesn't last long before it needs to be recharged.
Modular Design
There are sealing strips at the joints of each module of the robot, so water can only enter from the sewage suction port to improve the valid suction rate. This special design ensures that the robot can filter the dirt more efficiently without wasting power on other actions.
Power-saving Appearance
The ELF08 pro features a streamlined design and JET10 is designed to be triangular that both designs can reduce the drag created by the friction of flowing water to achieve the purpose of saving power.
You may still confused by our Cleaning Area.
Why ELF08 Pro has a larger cleaning area?
Reason is still Technology
Longer Runtime makes Larger Cleaning Area
It is obvious that a longer runtime results in a larger cleaning area. Our robotic pool cleaner performances better in cleaning if in a pool of the same size.
Intelligent Algorithm
AQUAFYSH robotic pool cleaner is programmed with intelligent path algorithm which can increase the cleaning area, thus our cleaning coverage area and cleaning degree per unit of energy are 20%-30% higher than those of the competitors'.
Moreover,unlike the competitors' repeatedly clean the same spot, our robotic pool cleaner is also programmed with random steering in order to explore the pool automatically which greatly widens the cleaning area and cleans every corner of it. And the ELF08 Pro even achieves a maximum cleaning area of 100㎡/ 1076 sq ft that is far more than competitors' in the same price range.
Conclusion
Now you should have a good understanding of choosing a robotic pool cleaner.If you're looking for an affordable and good cleaning effect one, AQUAFYSH is a perfect option. At AQUAFYSH.com,you'll find one that meets your expectations. Come and enjoy the relaxing moments brought by advanced technology providing by AQUAFYSH.
Comment