Product Exploration Ⅱ : To Be A Time-saver
Aug 02,2022 | AQUAFYSH
It's believed that owning a robotic pool cleaner must be one thing that saves time and energy. However if you got a wrong robot, not only will it not help you, but it will also add extra workload.
If you have a corded robotic pool cleaner,you have to worrying about cord entanglement and the risk of power short-out. Besides,storage of a corded one is not a trivial matter, you need to spend time to organize cables and prepare a large space for it.

As a self-contained pool cleaner,cordless robotic pool cleaner doesn't rely on the pool's filter or pump, and it doesn't need any additional pumps or hoses to get your pool clean moreover it also gets rid of manual operation, so its most obvious advantage is convenience.
Let's see how AQUAFYSH helps you save time and energy.
More Time & Labor -Saving, this is the key point!
Easy to operate
Switch-free & Inductive start, Inductive off : Just put the robot directly into the water with full of charged then it will start to work because the AQUAFYSH's robotic pool cleaners are equipped with two water detection sensors, once these two sensors sense water, the machine will start working without pressing the switch.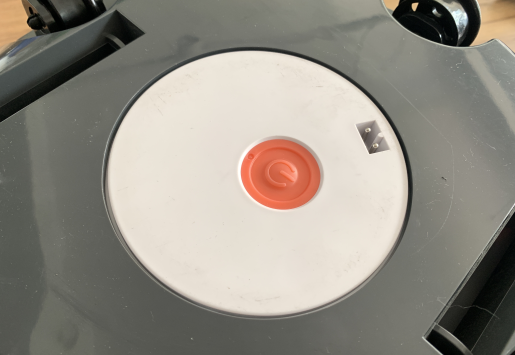 Two-stage buckles : You can open up the AQUAFYSH's robotic pool cleaner just in one second, which is the basic function that a smart machine

should

have. Unlike competitors' small snaps that are difficult to open, our products have large snaps called two-stage buckles that are easy to open. Because the large the force area, the less force you use, so it will very labor-saving.

Automatic Dewater : AQUAFYSH's robots have drainage holes that means when they are taken from the pool they will leakage so that you will not feel difficulty to taken them out. However competitors' will be taken from pool without dewatering then you'll be dealing with a mess of dirt and water.
No Assembly : To start our products all you need to do is put the machine in the water without any assembly. But some competitors' need to be installed the handle with screws in 3 to 5 minutes.
Easy to clean
Transparent cover can help you better grasp the storage volume of dirt, which is convenient for you to clean up in time to avoid invalid cleanups.
Just open the transparent cover, turn the buckle, then you can take out the dust box and rinse it with water. After rinsing, wipe it off with a dry cloth.
The tires of ELF08 Pro can be completely disassembled for easy cleaning and maintenance.

Easy to store
The robot will stop at the edge of the pool in low battery. This will help you not need to go elsewhere in the pool to catch the machine so that bring convenience to you.
Without annoying cord, the storage of robotic pool cleaner becomes extremely easy. Besides, it needs less space to store so this will free up more space.
Conclusion
After reading the blog, are you excited about the AQUAFYSH robotic pool cleaner with such a simple operation? Go to AQUAFYSH.com and get one. Let AQUAFYSH helps you save more time and energy so that you can spend more time on other meaningful things.
Comment